We all know that Android has saved the lives of those who just couldn't bring themselves to go the Apple route with their smart phones and tablets.  Let's face it – Apple's whole proprietary thing has turned off a lot of would-be users.  That said, with the recent release of the iPad 3, technology buffs who are unwilling to compromise have been wondering what they'll do to keep up with the latest gear.
Enter the Samsung Galaxy Tab 2 (7 inch).  The first version of the Tab 2 series has already created quite a lot of hype.  Android lovers won't be disappointed with this tablet, which runs Android 4.0, aka Ice Cream Sandwich, the latest in Android technology.
Some details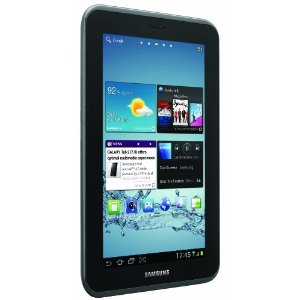 First, to be clear, Samsung has already released the 7 inch version, which debuted in February 2012.  In just a few days from the date of this article, they'll be launching the 10.1 inch version.
The Tab 2 has 1GB RAM and a 1 GHz dual-core processor.  That makes for about the best speed you can get in a mobile device.  Internet browsing is super-fast and screen transitions are smooth.  And, of course, you can run all the new apps supported by ICS.
The best thing about this tablet is that it is lighter and slimmer than the other comparable tablets. Its width is 7.6 inches and it weighs only 0.74 pounds, which is almost half the weight of the new iPad 3.
The design is not much different from Samsung Galaxy Tab 7.0 Plus. The side buttons are a bit more defined and it has rounded corners which give it an elegant look.
Another good feature is that it has up to 8 GB internal storage along with 32 GB of external storage memory which can be made use of through the microSD card slot. Also, it comes with af 50 GB Dropbox account which is completely free for one year. As this new OS is very efficient, the tablet does not get stuck trying to access the microSD card, a flaw which users noticed in the Galaxy Tab 7.0 Plus version.
Specifications include a display resolution of 1024 x 600 pixels (iPad 3 has 2048 x 1536 pixels!), image resolution  of 2048 x 1536, and camera features such as self timer, smile shutter and geo-tagging. Also, it has excellent Wi-Fi connectivity, Bluetooth, GPS and supports a wide range of audio and video formats.
Starting with the cons
Customer reviews show that people are unhappy that the front camera, which had a 2-megapixels resolution in Galaxy Tab 7.0 Plus and Tab 7.7, has been replaced with a VGA camera. However, the back camera still has a resolution of 3-megapixels.
Frankly, all this fuss about a front facing camera seems ridiculous to me.  Have you ever used your tablet to take pictures?  I mean, actually used it, not just tried it out a few times when you first got it.  Most people use their smart phones, which are far more practical, or a good old-fashioned (lol) digital camera.  I have yet to come across someone carrying their tablet around for picture taking purposes.  Even so the front facing camera is just for video chatting, lower res = less data = easier on your data plan. The rear facing camera is 3mp which is more than sufficient for snapping the odd picture on that day you decided to carry your tablet instead of your phone, lol.
Another common issue mentioned by users is the inappropriate location of the light sensor. The function of this sensor is to adjust the brightness of the screen automatically by sensing the light present at the location at which the device is situated. Users complain that while holding and using the device their hands frequently cover the sensor which leads to readjustment of the brightness. While not ideal the solution to this problem is to turn off the auto-brightness in your settings so that the sensor stops working.
And now for the pros
One feature common to Samsung tablets and much appreciated by users is the TouchWiz UI skin. This enables the user to access application quickly and comes with Media Hub, Music Hub and Game Hub.  Obviously the Tab 2 incorporates this technology as well.
The AllShare Play feature enables the user to watch the movies and photos downloaded on the tablet on their Samsung TV, mobile device or laptop with the 'push to watch' option. It also enables you to upload and download data securely from the web as it acts as a web storage service. You can also create a backup of all your data here.
An advanced feature is the IR blaster together with Peel's Smart Remote application. This enables you to turn your Samsung Galaxy Tab 2 (7.0) into a TV remote device. All your TV channels can be easily accessed on it and viewed on your TV screen with a single touch. The setup of this application is fairly simple and requires basic information about your ZIP code, TV make and model along with name of cable or satellite supplier.
Do not think of it as a simple remote, because it lets you to choose the shows you would like to watch while detaining others that you dislike. You can also browse through your favorite shows by category, a very useful feature.
An unfortunate issue that users have, and one that is actually not Samsung's fault, is that sometimes the device lists shows on channels which are not playing at that channel at that time. This is because the tablet shows whatever information it gets from the cable or satellite provider, which can be inaccurate as many of us have already discovered from past experience.
Of course, the biggest Pro is that this tablet costs $250.  There's just not another tablet out there that can boast the same features for this price point.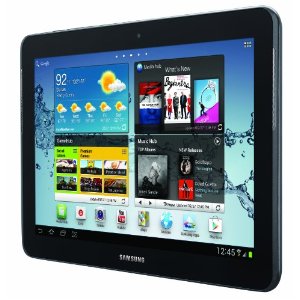 Samsung Galaxy Tab 2 10.1 inch

Just launched the Samsung Galaxy Tab 2 (10.1) has pretty much the same features as its 7.0 inch kin, but with a price of $400 it is cheaper than most of the bigger tablets. In fact, this is the biggest size yet reached in the world of Android tablets, and the iPad 3 is still struggling at 9.5 inches.
To sum it up
If you're one of those out there who is looking for an alternative to the iPad, this may be your tablet.  The features are right, the price is right, and the general user experience is very positive.  What more can I say?  Do your homework, and see if maybe this is the one you've been looking for.
Check out both Galaxy Tab 2 tablets at Amazon.
Samsung Galaxy Tab 2 Review, The Pros and Cons

,