Hot Huez hair color is a safe and simple choice for a quick burst of bright color. With vivid shades of Fiery Fuchsia, Neon Green, Hot Pink and Electric Blue to choose from, you'll have a great time making your hair match whatever you're wearing. The best part that it stays where you want it, when you want it, and when you're done you just wash it out with shampoo.
Visit the official website here.
How is it Different?
For starters, this stuff is completely temporary. It doesn't change the molecular structure of your strands like dyes can do. The primer that you spray on first makes sure that the color does not bond permanently to your hair. You can wear your choice of color today and go back to your soft, shiny, naturally toned locks tomorrow.
Because it is a chalk instead of a spray, the coloring is far less messy and much easier to get right. All you have to do is separate a strand you want to color, and then glide the chalk compact in a downward motion to the tips of your hair. You instantly have evenly applied color. You don't have to mix anything up and you don't even have to wear gloves if you're really careful.
To be on the safe side, though, wear a towel or old sweatshirt over your shoulders so if some of the color does brush off, it doesn't matter.
Why You Shouldn't Use Art Chalk
Pastels and other colored chalk you can buy in an artist supply store aren't intended for use on human hair. They work well on flat, stationary surfaces like canvas or parchment. Art chalk is powdery and does not provide even color on hair strands. It doesn't adhere to each piece of hair and tends to end up on your collar or shoulders after a short period of time.
Hot Huez is designed specifically to provide brilliant color highlights on your hair. It stays where you put it for as long as you want it. It washes out easily with warm water and shampoo. Artist's chalk is not made to be washable.
Hair Chalk Style Ideas
Mix up the colors for a trendy, tie-dye look. Hot Huez chalks come as a set, so don't be afraid to use them all. Try coloring slender locks and then style your hair in a messy up-do for a really stunning outcome, or weave them into a single lobster braid down your back for a fresh take on a classic hairstyle.
If you want to stick with one color for a more elegant effect, try just chalking the lower half of your hair after putting some curls in. To get really fancy, slide more than one color on each section of alternate curls to get lovely rainbow-like locks.
Dos and Don'ts
Before applying, make sure that you wash out any conditioner, mousse or hair spray. Dry your hair completely, especially if you have light colored tresses because otherwise the hair chalk can be hard to completely wash out.
While the design of the compact applicators prevents almost all chance of a mess it's still a good idea to use it in an un-carpeted area like the bathroom or even outdoors. That way, you can concentrate on getting the color right and not worry about your surroundings.
We recommend coloring only small sections of hair at one time. If you try to chalk a thicker tress, you won't get an even, professional result. This product actually works great and delivers vivid color if you take the time to do it right.
Our color stayed fresh all day. We did find out that wearing a dark top or one that is close to the color of the hair chalk you use helps hide any color that might drift down.
One of our testers who has light blonde hair had to shampoo more than once to remove all traces of her neon green color. Our brunette tester had no problem removing her Fiery Fuchsia in a single washing.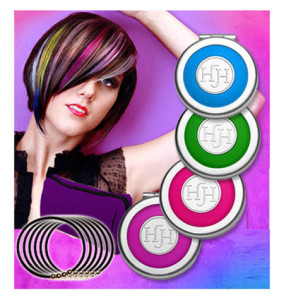 Hot Huez Hair Chalk User Feedback
Mothers of tweens and teens give it rave reviews. The compact applicator makes it easy for their daughters — and sometimes sons — to put the color where they want it without making a big mess. Because the hair chalk washes out with soap and water, moms feel good about letting their tweens and teens glam it up for the day.
People also like using this temporary hair coloring product for special occasions and even costume parties because it delivers brilliant, fun shades with no long-term commitment. Those who have written reviews online mention the safety of hair chalk as compared to chemical dyes. They like the vibrant colors and the easy clean up.
Visit the official website here.
One downside some reviewers mention is that applying hair chalk takes more time than immersing their hair in dye. You have to color each section individually. However, many concede that the fabulous results they get are worth a few extra minutes of their time.
Whether you want to experiment with some subtle colored highlights or want to wow your date with brilliantly toned locks, Hot Huez gives you the versatility to try on new colors without having to settle for the same look in the long-term.
With a well-balanced palette that lets you mix colors for completely different effects, you will find a great way to express your signature style. The color is temporary, the products are safe to use, and the unique applicator keeps the chalk where it should be — on your hair.
Hot Huez Hair Chalk Review

,