Music Bullet
Most people love to listen to their favorite tunes while traveling long distances. Even more than that, they love to listen to high quality audio through their different music players. For such people, the music bullet is a perfect companion for computer, iPod, or other MP3 player in order to produce true, high quality, high volume sound.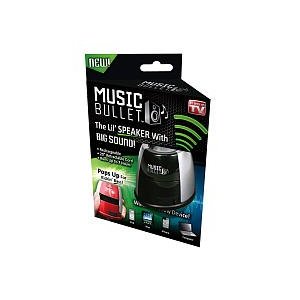 The device is not only suitable for listening to tunes while driving, but also enjoying your favorite songs in your office, on the street, in the garden, or on the beach. The device can also be an excellent choice when you're hosting a party in your backyard!  You can improve the output by using the function that increases the bass level.
Features
The device is rechargeable and can also be connected with multiple music bullets, which provides a phenomenal effect with your music. It can also be connected to the speaker phone on your mobile handset, which is a cool feature. Listen as long as you like because of the feature which lets you recharge whenever you want.
One thing we wondered about was whether a device so small could really pump out a big sound.  Based on the reviews, it looks like we don't need to worry about that with the Music Bullet.
Flexible?  Yes!
As far as flexibility, this speaker is pretty simple.  Just plug it into whatever device you want using the included USB cable.  Doesn't get much simpler than that!  Just in case the device is not able to recharge through the USB cable, you can use the separate jack provided by the company.
Pricing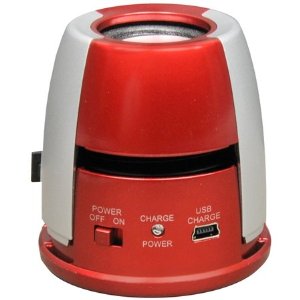 The product comes in your choice of two colors, red and black, and is very reasonably priced at only $10 each at Amazon.   This is a big improvement over other compact speakers that require you to buy a separate bass unit in order to produce high quality sound.  With the Music Bullet, you only need to buy the one speaker to get good sound!
Battery Life
The rechargeable battery lasts for as much as seven hours before you need to charge it using the USB port. These speakers are designed to be user friendly and all you need to do is plug these in with your player to enjoy exceptional sounds.  Because of the size, it's not much harder to carry the speaker around in addition to your mobile phone or mp3 player.
Another feature we love is the retractable cord, which can be easily connected to your music players or pulled back when the speakers are not being used.  In addition, the USB charging cord enables you to enjoy your favorite tunes non-stop even on the go. This speaker is the perfect match for someone who is looking to find a compact attachment to work with his or her laptop or mobile handset.
Several users reviewing the product have mentioned it is ideal for an office setting where you can enjoy music while working, as well as while you are driving, especially since using earphones or plugs is banned in most places. The speaker can be used to enjoy all kinds of musical tunes, which include classical songs, rock music, and other types.
User Reviews
One user used the speakers with his Asus Transformer tablet and Android phone. He comments that listening to his favorite tunes and watching movies on the tablet is an excellent experience. Further, he states that although the speaker does not provide heavy brass, it is a powerful, small battery-powered product available at very affordable prices.
Another user gave the speaker a five star rating, stating the sound is heard all around the home. He has hooked up the speaker with his musical player on the lower floor and has been able to clearly hear the sound on the first floor. Comparing it with some other well-known speakers, the user states the reach of other speakers are significantly lower in comparison to this speaker.
All the reviews and discussions show that the music bullet is recommended due to its portability, incredible bass, and sound quality. Plus, it recharges quickly and allows you to enjoy the tunes without interruption. For the price, it is one of the best available products in the category.
Music Bullet Review - Can this Speaker Really Kick Out Sound?

,