When it comes to your kitchen, what is one of the main things you find yourself using, washing, drying, storing, and then reusing?  If you're like most of us, the answer is containers.
With the economy the way it is, people are not as quick to toss their leftover food.  Instead, they store it and eat the rest later.  The problem?  Junky, mismatched containers with different sized lids are hard to store and keep track of.
Visit the official Mr. Lid Site here
Once I was missing a lid and tried to innovate by covering the container with aluminum foil so that I could carry food to work – an idea I thought to be brilliant. When I went to eat my lunch, I found that the food had spilled in my lunch bag.  Needless to say, cleaning the mess was very irritating.
We have all had one issue or another to deal with when it comes to containers. From spilled lunches to container avalanches that happen when you open the cabinet door, storing your storage gear can be extremely frustrating!
That's why today we want to take a look at a new line of containers called Mr. Lid.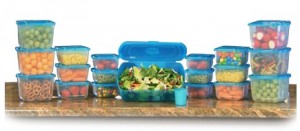 What are Mr. Lid containers?
Mr. Lid containers are made in the US. They are food grade, FDA approved, and made with Polypropylene (PP) which is a recyclable plastic. The containers are BPA free and come with a lifetime guarantee.
The best thing about these containers is that they have their lid attached to them, so you never lose a lid (hence the name "Mr. Lid"). This seems like a good idea, considering the mismatched, missing lids are one of the biggest problems with traditional containers.
Imagine not having to spend precious time searching for the appropriate lids.  How cool would that be? Mr. Lid containers are patented, so you're not likely to find the attached lid with a different container brand.
Mr.Lid guarantees that your lid will not be split under normal usage. So unless the container drops from 3 feet above to a hard surface, you should be good. When they're open you don't have to worry about your lid and container separating.
How about leaks?
These containers lock, creating an air and watertight vacuum seal, which ensures that your food stays fresh for a longer period of time. It also completely prevents leaks.
So even if the container is placed upside down, there will be no spillage. If you are sending your kids to school with lunch there will be no risk of soup spilling on their books. Just ensure that the food is not above the "fill line" which is indicated at the front of each container.
The lid is so well fitted that even if the container falls, it cannot open and spill its contents. The lid has a press-fit on the side walls of the base to ensure that the container is well sealed.
Maintenance
Cleaning these containers sounds pretty simple.  Just use a soft sponge and dish washing soap to clean them.  No abrasive cleaning aids like steel wool, as it will damage the container.
You can also put them in the dishwasher as long as you place them in open with the inside parts facing downwards. It's also recommended that you put them on the top rack of the dishwasher when cleaning.
They don't get stained unless you use them in a way that is not recommended. You can avoid this by heating the food at a lesser temperature or spraying the container with a non-stick cooking spray before putting the food into the container. However, keep in mind that these containers should not be put in the oven.
Mr. Lid containers can be used in the freezer and microwave. You can store, prepare, heat, and serve food with them, making them good multipurpose containers. The containers have a practical measuring line on the side of the container which helps the user.
Storing your Mr. Lid containers
We've got one word for you about storing these containers: Nesting.  The fact that they nest can save you quite a bit of time and hassle!  They also stack, making it easy to organize even the containers with food in them.
If you've ever had a cabinet with mismatched containers in it, you know what I mean when I say "booby trap".  I've had containers cascade down onto my head more times than I can count.  And what about that "throw the lid in and slam the door as fast as you can before it all falls out" routine?  If this is your story as well, I think you'll find these containers to be just what you are looking for.
Selection
The containers come in numerous sizes to fit your needs and are pretty affordable, as far as containers go. One set includes 9 containers. Mr. Lid also makes a deluxe container which is perfect for cereals, casserole, salads, etc. The Deluxe container comes with one spill proof condiment container which you lock in to the container for storage and pops out for dressings and toppings. This is especially useful for taking salad to work!
Right now the company is offering some good deals, such as the offer which lets you buy one set of containers and get another set free, plus a deluxe container. Remember that you get them all at the price of one set.
They are also offering free shipping within the continent of USA and Canada.  They have a 60 day money back guarantee.   Once purchased, your Mr. Lid containers should arrive in 3-6 weeks.
If you have been accumulating clutter in the name of containers and lids because you can't seem to keep matched sets, it's time to make a change.  Consider trying the Mr. Lid containers.
Mr. Lid Containers Reviewed

,