The Chop Magic Chopper is a quick and easy slicer and dicer for veggies and other foods. It is an As Seen on TV product, trademarked by APG. It appears to be a super handy and useful kitchen tool that will cut down on food prep time and clean up. But, does it work well? Is it as great as it promises to be?
Overview:
People always seem to be looking for improvements on the standard kitchen knife for their food prep cutting needs. This is one of those products. This product is made to make cutting, chopping, mincing, slicing and dicing easier, faster, safer and with less mess.
If you have ever prepared a salad, stew or stir fry, you know that the majority of the prep time is spent chopping your ingredients. In fact I would venture to say that many people avoid certain recipes because of the amount of time and effort required to chop vegetables. Unfortunately, these are usually the healthiest meals loaded with fresh nutrient rich vegetables.
The truth is that we all need to eat fresh, home cooked meals more often, and it is possible that this chopper could bring us all one step closer to this kind of healthy eating.
The Assertion:
This "magic" food chopper will save you time in the kitchen because it is fast and easy to use. It promises less mess as well as no tears when chopping onions. It is stainless steel and easy to clean because it is machine washable. It can chop, dice, cube, mince, slice and dice in seconds.
The Pitch:
There are a lot of similar chopping devices out there on the market. The thing that makes the Chop Magic seem better is its simplicity and quality. Some similar devices have a lot of different parts that are easy to lose and difficult to store.
Other similar devices have hinges for the chopping action and a flimsy design that may be prone to breaking. Also many of them are not dishwasher safe. This chopper is better than other choppers because it is a simple box and bladed lid configuration. It is durable and sets up and breaks down easily for use, cleaning and storage. This chopping device will make healthy cooking a fast and easy process.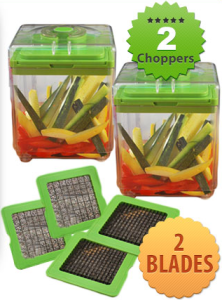 The Value:
Here are the offer details: You can buy one Chop Magic set for only $19.95, plus $7.95 for shipping and get a second  one for free, but you have to pay a separate $7.95 shipping and handling fee. With their offer, you will also get 2 "Perfect Tortilla" pans, as well as 2 Recipe Guides, and a "BONUS Web Only Mystery Gift" for free.
The pricing seems about average for these types of devices, as well as the add ons and bonus items. The part that I thought was really impressive is that you also get a lifetime guarantee. Chopping devices always become dull over time, I am curious to see if the "lifetime guarantee" will be honored when this inevitably happens.
The Promise:
The Chop Magic promises that it will easily chop squash, peppers, tomatoes, and zucchini in addition to mincing garlic, onions, and mushrooms. There are a lot of possibilities with these ingredients, from a super healthy stir fry to fresh homemade sauces.
This little kitchen chopper also promises that you can make a personal home salad bar for the family, by cubing veggies, meats and cheeses as well. What a great idea. The whole family will be eating healthy every night if it really is this easy. French fries, no matter how you make them will never be a "diet" food, but they can be a delicious and tasty treat made much healthier when you make them yourself and have control of the types of potatoes and oil you use.
This little chopper claims that it slices potatoes with ease. Just slice or scallop a sweet potato, drizzle it with coconut oil, add sea salt and black pepper to taste and bake this great little treat in the oven. The more I think about it the more healthy snacks and treats I could make with the Chop Magic.
There are options from fruit salads to salsas to guacamole. I know it can dice onions, peppers and tomatoes, but, I wonder how it will do with dicing an avocado? I am looking forward to trying that one. Sometimes I avoid putting things like, melon and pineapple in my fruit salad because they can be an inconvenience to cut.
I am excited that this chopper is going to help me introduce new healthy ingredients into some of the dishes that I already make as well as inspire me to try recipes I might have avoided previously because of labor intensive chopping requirements.
Assessment: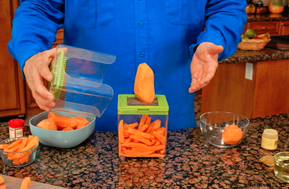 I am often really terrible with knives, so this is a great kitchen tool for me. I have scars on my fingers from attempts to cut tomatoes, onions and bell peppers with traditional kitchen knives. One of the features of chopping devices like the Magic Chopper that excites me the most is the safety factor. Now, I imagine creating exciting, flavorful and fresh meals, minus the fear of getting stitches or losing a digit in the process.
The second reason I love this device is that I tend to procrastinate making healthy dinners because I know how long all of the chopping is going to take me. Then, it gets too late and I just throw something easy together or get take out. This chopper cuts my prep time in half and actually makes cutting all of the vegetables kind of fun. In the long run I think it will save me money because I will actually use the fresh ingredients that I buy, instead of just rotting in the refrigerator due to never getting around to chopping them.
I know it sounds lazy, but admit it, you have done it too. Another favorite feature of this chopper is, "no tears" and less contact with capsaicins. Have you ever diced a spicy pepper or even just an onion and even after washing your hands accidentally touched sensitive skin? It can be rather painful. Having this little chopper will hopefully save me from such incidents in the future.
Final Thought:
I love to cook, but I hate to chop. The Chop Magic is a great product for me. It is safe, fast, and easy to use. It is relatively easy to clean, especially since it is dishwasher safe, although a regular knife is definitely a bit faster to clean. I still have a few questions about this device like, how do you sharpen the blades and how long will they last? Is it going to be durable in the long run and will the lifetime guarantee be honored? We shall see. In the meantime, I am going to have fun playing with new recipes and eating a ton more fresh vegetables than I would have before I had access to such easy chopping.
Chop Magic Food Chopper Review

,