A little leak can cause a huge damage over time, so you need to seal tiny cracks immediately before things get worse. With all the brands of spray rubber sealant sold in stores, you might wonder which product offers the best result.
Flex Seal is a must-try for those who are looking for a reliable and quick fix for leaks.  The product makes some grand claims about its functionality – but does it really work?  Let's check it out.
How Flex Seal Works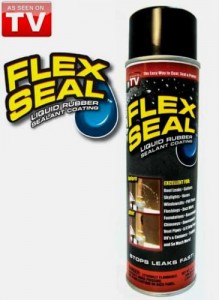 Flex Seal is a rubber sealant in liquid form that fixes cracks, small holes and leaks. Each canister contains liquid rubber that you can use for coating a surface with cracks.
You only need to spray the rubber to cover the leak in an instant. This black rubber component fills into any holes and prevents liquid from seeping out or getting inside the sealed material.
You can use a large canister to cover an area of about 8 square feet, depending on the thickness of the coat applied. You only need to hold the can about 14 inches away from the material you need to seal, making sure that you apply the right amount of rubber sealant to cover the crack completely.
After you use the product, keep the can in a storage area over 60 degrees Fahrenheit. This ensures that the liquid rubber inside the can stays good.
Pros
1. It is easy to apply.
Flex Seal is a liquid rubber sealant that you can spray on any surface. The liquid formulation seeps quickly into cracks and holes for a perfect seal. Most sealants come with a rubberized or dry component, so these are difficult to apply.
Also, most dry sealants are messy and sticky. The spray can makes this mess-free and does a good job covering leaks and tiny cracks. The liquid rubber gets deep into holes to close them up.
2. You can paint on the rubber with the desired color.
A black liquid comes out when you spray this product on any surface. When the rubber becomes dry, you can paint on it by using the desired color.
3. Can be used on any surface.
You can use the liquid sealant to cover leaks on pipes, gutter, roofs, and any other surface. This product is truly versatile, unlike other sealants that are only compatible with a few types of surface or material.
4. Saves money and keeps the leaks sealed for several years.
Leaks can be a huge problem, and you might have to consult a professional to keep the cracks sealed properly. However, Flex Seal is an efficient tool that you can use even without the help of a professional.
When you spray the product on any surface, you can expect to see results immediately. This saves you money and time from hiring a specialist to fix the leak.
Cons
1.  Let's remember that this is an infomercial.
No, you probably won't be able to coat a screen-bottomed boat with it and go out on a lake in one hour.  In fact, you may need to use a few coats, allowing the proper drying time in between.  That's just life.  However, if used properly, this stuff should work just fine.
2.  It's susceptible to petroleum distillates until dry.
You'll need to make sure there's no oil, gas, etc. around while the Flex Seal is drying.  Those types of things can break the rubber down while it's still in liquid form and ruin your project.  Once dry, though, no worries!
Flex Seal vs The New Flex Seal Brite Review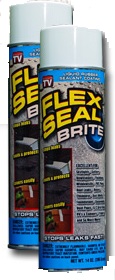 Last year Flex Seal blew away infomercial audiences and customers alike with their revolutionary liquid rubber in a can! Well they have done it again with Flex Seal Brite!
So what is Flex Seal Brite? Simply put it's a white version of the same thing. It can be used for all the same tasks only this time it blends better with lighter colors, concrete for instance. Can I say Hoover Dam? lol. It is also easier to cover with paint since you don't have to worry about the black of the original version showing through.
In the end the product is the same, the color is different and the commercial is funny!
Take advantage of the Flex Seal Brite B1G1 offer Here.
Flex Seal Reviews: What Product Users Say About The Product
It is typical that some people may be a bit skeptical when they hear about all the features of this product. Once they see the results, though, they realize how effective it is. In fact, they do not have to wait for long to notice how well it works as the rubber comes with fast-acting results.
A few consumers have some issues regarding the product.
One user complained about spraying the product several times without seeing good results. Too much liquid rubber doesn't do any good, and it is important to let the first coating dry completely before applying the next coating. You will know the right amount you need to use by checking the size of the crack. As you spray the rubber sealant, the hole will become small. When the seal dries up, the unfilled holes become noticeable. You only need to spray the right amount that will cover the hole completely.
Here's a tip to help you apply Flex Seal without any mess:  Specify the target area where you want to apply the liquid rubber. Try using a piece of paper, so you will not end up spraying the product in a different area. Spray over the card stock or paper before removing it. This will create a film over the crack, and you can cover the leaks properly without any mess.

Bottom Line
Some consumers might have encountered problems with Flex Seal, but most of the time it's because of their failure to use the product correctly. Multiple coats are necessary for big holes, and it is necessary to let each coat dry before spraying the second time. It is also important to store and use the product in the right place to prevent accidents and injuries. When you keep these reminders in mind, you should have a hassle-free time using this product.
Flex Seal is an essential item that you should have in your toolbox.  It may not be your only tool in preventing leaks, but it's one that is nice to have on hand for a quick fix.  For the price and convenience, it's worth it.
Flex Seal Review, Liquid Rubber in a Can?

,