Health & Beauty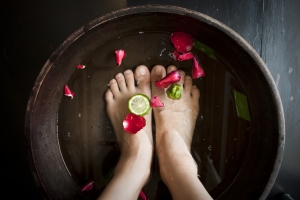 When you aren't feeling well or looking your best, it affects everything around you.  Think about the confidence you feel when you walk into a room looking pulled together and having slept well the night before.  It changes the way you interact with people, the way you carry yourself, and the way you perform tasks throughout the day.  Now picture a day in which you rolled out of bed late, threw on the first clothes you found without taking a shower or brushing your teeth, and forgot your makeup bag.  It makes you want to hide instead of greeting people with assurance.  Can you see why people are quick to purchase health and beauty products, and even spend a small fortune on them?
The problem is that many labels can be misleading, and often products advertised on television don't live up to their claims.  Wouldn't it be nice to find out if a product really works before you purchase it?
We take great pleasure in hunting down good information about the various health and beauty items that are being promoted.  Here you'll find a variety of carefully researched reviews as well as helpful tips on using certain products.  Nobody wants to waste money on useless contraptions or gimmicks, but researching for hours to find out the truth is too time consuming.  We've done the work for you so you can decide what you want without wasting your time.
TopStyler Ceramic Shells
If you've ever watched television for more than two seconds, you've probably seen a woman with perfect, loose-spiraled hair that bounces beautifully and never loses it's curl.  Why is it that every time you whip out a curling iron, your results look more like Shirley Temple than the aforementioned TV lady?  Well, besides the fact that most television personalities have dedicated hairstylists that spend years perfecting their work and you have the business of life to attend to instead, you may want to consider trying a different approach.
The TopStyler is revolutionary in its design as there is no actual "iron" involved.  Simply wrap your hair around your fingers, a movement that is infinitely natural to most people, then tuck it into the heated ceramic shell until it cools.  Voila!  Goodbye, Shirley.  Hello, movie star!
Read our full TopStyler review.
Hot Buns
Unless you were a ballerina for a considerable time, chances are you struggle with getting the perfect bun.  Buns are an elegant, stylish way to wear your hair, so mastering the technique is a good idea.  Now a product is available that does the work for you.
Hot Buns is simply a round, flexible hairpiece that helps you achieve the picture-perfect bun.  Just make a ponytail, roll over the Hot Buns piece, snap together, spread your hair over the surface, and wrap with the elastic.  No more bobby pins and hairnets!
Read our full Hot Buns review.
ZQuiet Revolutionary Snore Guard
Snoring is not only disruptive to those around you; it can also wake you as well, ruining your good night's sleep.  For many people, snoring is a lifelong issue that they have to combat.  Going to a sleep doctor may be the right answer for some, although in the long run it can be fairly expensive.
There is a product on the market right now called ZQuiet which has been very positively reviewed by users.  It is essentially a mouth guard-style sleep aid that prevents the wearer from snoring by pushing the lower jar forward, allowing free air-flow even in deep sleep.  Although some users complained that it first it's uncomfortable, many agreed that the discomfort quickly goes away as one gets used to wearing the device and the results are worth it.
Read our full ZQuiet review.
Tag Away Skin Tag Remover
Skin tags are ugly and annoying flaps of extra skin that can be embarrassing and obnoxious.  In the past, the options to remove them have included seeing a dermatologist to have them frozen or sliced off or clipping them off at home.  The former option is cost-prohibitive and inconvenient for many people, and the second leads to a good bit of bleeding and pain.  Fortunately, there's a third option now available called Tag Away, and it won't cost a fortune or cause excessive discomfort.
Tag Away is a homeopathic solution that is applied to the skin tag over a period of time, resulting in the skin tag simply drying up and falling off.  It's not nearly as expensive as a doctor visit and it's 100% pain free.
Read our full Tag Away review.
Twist N Clip Hairstyling Product
For years, those with thin hair and those with thick hair have disagreed over which product holds hair better.  Many just sigh and revert back to the old banana clip.  Why can't there be a stylish option for holding any hair type?  Twist N Clip is a product that claims to be the solution to the hair needs of both thick-haired and fine-haired people.
This easy-to-use gadget looks like a plastic bobby pin with a round side for "clipping".  Just slide it in, bend the long arm, and fasten under the round side.  The flexibility of the plastic is what makes it work so well – it is tight enough to hold fine hair and bendy enough to gather up thick, curly hair.
Read our full Twist N Clip review.
No No Hair Removal Tool
Ah, unwanted hair.  This problem has been the cause for countless inventions and methods of hair removal.  The No No Hair Removal tool is just such an invention, prompted by people's need for permanent hair removal that actually works.  The way this tool does its job is by a new technology called thermal transference.  Each thermal pulse helps eliminate unsightly hair and prevents it from growing back.
Although the No No is pricey, it may be a worthwhile investment for someone who is already receiving professional hair removal treatments.  As a whole, the user reviews are positive, although there are several negative reviews which may have to do with users' accuracy in following the instructions.
Read our full No No review.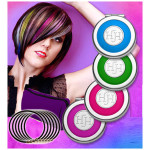 Hot Huez Hair Color Review
This temporary "hair chalk" offers bold colors and easy application. It is a no muss no fuss temporary hair die option. Since its a chalk there are no harsh chemicals that will damage your hair. If you are looking for some easy but wild hair color options this is for you.
Hot Huez comes in 4 different colors and offers some nice "bonuses" when you order. One of the best features is its simple removal process. Just wash with soap and water and your hair goes back to its original color, doesn't get much easier than that.
Read our full Hot Huez hair chalk review.