Reusable gel packs and plastic encased ice packs brought lunch carrying to a new level years ago, allowing people to include food items that could not be trusted for long at temperatures above refrigerator level. Those reusable items were a boon at the time, but they also have their drawbacks.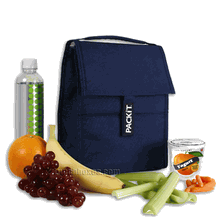 Visit the official site here
Where kids are involved, the most frequent issue is that the additional items don't come back home. When they do make it home, they often don't find their way to the freezer to be ready for the next use. The worst characteristic of those reusable add-ons is that they eventually begin to leak. Not only do those leaks create messy lunch bags, the material used often borders on being toxic.
Solving Problems
The PackIt freezable lunch bag solves the problems of the reusable cold packs packed along with the lunch. It uses an eco-friendly gel as a liner of the bag. There is no separate cold pack to forget to include or retrieve. The 8.5 x 5 x 10 inch bag folds flat when empty. It takes up little room in a backpack or work bag and can be placed directly in the freezer to await its next use.
Because the eco-gel is encased in the walls of the bag, there is no separate cold pack to gather up after lunch or to remember to place in the freezer on returning home. Instead, the entire bag stores in the freezer and is ready to use as is for the next day's lunch.
Cooling Performance
The manufacturers claim that the PackIt bag will keep food cold for up to ten hours. Some people say that food is cool after ten hours but not cold, but others report that their food is refrigerator cold at the ten hour mark.
One reviewer was disappointed that food was only cool at the end of the work day, but then said that he had given the bag only a couple of hours in the freezer before using it. It seems that the bag lives up to its cooling claims when it is allowed to spend the night in the freezer.
The mother of an eighth grade daughter bought a PackIt specifically for her daughter to use as a research object in her school's science fair. The student has a penchant for proving advertising claims to be false, and expected that the bag would not be able to meet the claims made about it.
She found that the bag's internal temperature rose from 40 degrees to 42 degrees over five hours, compared to a standard cooler containing a freezer pack. The standard cooler could manage only 56 degrees, and that increased to 60 degrees over the same length of time.
The student was rather disappointed with the bag's superior performance, since they were hoping for another failed ASOTV product, but both she and her mother now know they can trust it for the student's school lunch.
The Product
The bag measures 8.5 x 5 x 10 inches when fully expanded, making it large enough to accommodate most types of containers that people use for packing lunches at home. It folds flat when it is empty, taking little room either in a backpack, purse or freezer.
Both the interior and exterior are vinyl, making the bag easy to clean. It is not washing machine or dishwasher safe. One caution that reviewers note is that users need to be careful with the interior lining to avoid tearing it. Many say that the lining is quite durable under normal use and in the absence of sharp objects.
There is a Velcro closure and a carry handle on top. The packed bag can be carried by its handle, but it also can be clipped to a tote bag or a computer bag so that the user can enjoy hands free transport.
The bag is available in a wide range of solid colors and print patterns. There are bags that school children, nurses, advertising executives, retail clerks and all other working people can feel comfortable carrying. All are the same size, but everyone can find a color or print that suits their individual taste.
Value
PackIt is available from some online retailers as single items, but the company's own website offers a "BOGO" – buy one get one free – arrangement in which the customer pays separate shipping and handling for the purchased bag and for the free bag. This arrangement saves about $8 on the cost of two bags.
Some customers grouse about the separate shipping and handling required when buying two bags, but others observe that the bag's value goes far beyond its $19.95 price.
One office worker noted that he saved more than the purchase price of the bag during the first week he owned it. An added benefit was that he ate healthier lunches than he had been getting in restaurants.
The Bottom Line
The PackIt freezable lunch bag is quite serviceable and reliable as a bag for safely transporting and holding lunches. It keeps food cold at safe levels for as long as most people need for their food to stay cold.