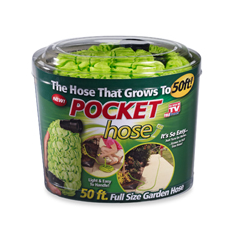 The Pocket Hose is a simple and easy to use shrinking garden hose. What makes this product wonderful is what happens when you take it off the tap and then let it dry.
When it is not under pressure it becomes very small, compact, and light, allowing for easy transport and storage. It can be stored anywhere, including shelves or drawers, any small storage space, and yes the shorter versions even fit into your pocket, lol.
When pressurized, the hose extends between 25 and 100 feet, depending on which length you choose.  Once you're finished using the pocket hose, you just take it off your tap and see it shrinks back to its very small and easy to carry size you can then simply store for use another time.
This hose never kinks, twists, or knots. It provides a continuous flow of water just like all good hoses should.
The pocket hose has two layers. One of the layers is made from a rubber material, which stretches and expands when it is in use. There is also a nylon-type material that covers the inner layer. This material protects the hose from freezing or from melting in extreme weather conditions or temperatures and helps to protect it from any puncture or damage.
Does it really work?
To make certain that it works properly every time you use the hose, look for the inlet as well as the outlet of the hose. The inlet of the hose is the end portion that you connect to your tap. The outlet is the end of the pocket hose where the on and off lever is connected.
You need to ensure the lever on the hose is at all times set to off when it is not in use.The hose will not expand correctly if it's left in the on position. All standard nozzles can be connected to the outlet of the hose without any problem.
You can connect the inlet of the hose to the faucet and once done, just turn the water on. When you're done simply turn off the water and open the valve at the end of the hose. As you are draining the Pocket Hose out, you will begin to see the hose shrivel to its original size.
Potential Drawbacks
There are some drawbacks with this hose. The most note worthy is that you should disconnect the it after every use instead of leaving it outdoors where it will be exposed to many elements. While this is not a must it will extend the lifespan of the hose considerably.
Another concern is the length, which ranges from 25 to 100 feet long, is not as lengthy as some users might want and can have problems reaching all the areas of larger garden or backyards. So, make certain that you buy the correct length.
The final concern is that the Pocket Hose does take some time to shrink back to its normal size, which must be expected. Simply turning off the hose and letting the water drain out allows it to shrink most of the way but it wont return to it final super small size until its dry.
Great Place to Get the Best Deal and Price
A lot of users recommend ordering the hose online through its official website. Aside from receiving a 10-year warranty, you will also get the chance to purchase two Pocket Hoses for the cost of one hose. You can get this when you cover the added shipping and processing fee. Furthermore, if you are not fully satisfied, your product is covered by a 100% money back guarantee on your purchase if you bought it from its official website.
As mentioned earlier, the hose is available in four different lengths: 25 feet ($12.99), 50feet ($19.99), 75feet ($32.99), and 100 feet ($39.99), with an extra $7.99 for handling and shipping. You can get an additional hose for a slight additional fee beginning at $9.99, so you can attach two hoses to guarantee the hose is sufficiently long to meet all of your gardening requirements.
A neat new addition to the Pocket Hose lineup is that it now comes in 7 different colors/patterns. So if green is not your thing you have some options.

Maintenance of your Pocket Hose
Proper usage of this hose and consistent care will prolong the life of this product. The hose should be kept away from direct daylight when not in use and should not be left near harsh chemicals. The hose should be drained after each use. This hose shouldn't be scraped on brick, concrete, or any other rough surface that can snag the nylon covering of the hose.
Residual moisture from earlier usage may cause the rubber hosepipe to stick to itself. This is natural and doesn't usually cause any damage to the hose.
To help in prolonging the life of the product, you should to be careful when switching the water on. You should not begin with a heavy and full stream of water especially when the hose has not been used for a long time. You should gradually increase the water pressure to give the rubber a chance to adjust as the water streams through it.
Is it right for you?
This is definitely an excellent addition to any home or garden. It comes in a range of sizes, is super handy and truly easy to store. Since it can contract and expand, it can be kept in little spaces when not being used and can return to its normal length when necessary.
So, whether you're a keen and ardent gardener, you need a hose for general use, or if you don't have huge space to keep a normal hose, this is a good choice for you.
If you own a home, boat, or even summer cabin, you probably want to have a garden hose available for regular use. The Pocket Hose solves many of your issues by giving you a dependable hose that's very light and will not take up so much space or get kinked and knotted.
With the assurance available through its official website, giving the Pocket House a try is risk and hassle free.
Pocket Hose Review

,