Grilling is an American pastime. And really, there is nothing more classic than a good old fashioned hamburger or cheeseburger from the grill. Just thinking about the smell of burgers on the grill can be enough to make your mouth water. Having said that, people are always looking for a new twist on old favorites.
Visit the official website here.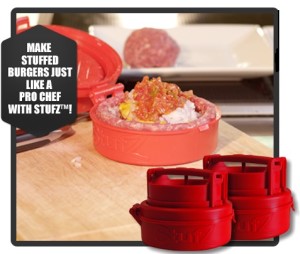 It seems that food fusions of all kinds are hot these days; the more creative the better. Enter StufZ, the new fangled burger stuffing device that allows the traditional American burger on the grill to become an exciting and creative culinary project.
The Big Idea
This product claims to help you create the "ultimate fusion of flavor." Due to the popularity of cooking shows and celebrity chefs, more and more people are excited about cooking and preparing food for friends and family at home. This is a good thing, because ultimately home cooked meals are healthier and more economical.
This chefs tool for the home is a great way to add some pizzaz to an otherwise ordinary afternoon of grilling. The idea is to give people infinite choices and flavor possibilities while working with a very familiar American food staple, the burger.
Claims
The company claims that the product "makes a perfectly stuffed and neatly sealed patty every time!" And that you can "make a stuffed burger just like a pro chef!" It claims to be easy to clean and dishwasher safe. It also claims to perfectly seal your burger locking all of the flavors inside with its super deep cup design.
The Promo
All of the hype surrounding this burger maker centers mainly on the idea that you will be able to make some really exciting and delicious burgers with flavor combinations beyond your wildest dreams. This is not a new product, but it has recently been re-branded.
The latest spokesperson for the product is celebrity chef, Brian Duffy of the show, Bar Rescue. He claims that he uses the StufZ burger stuffing device in all of his restaurants. In the promo video he says that his daughters favorite burger is stuffed with macaroni and cheese.
There are a lot of of other ingredient combination suggestions as well. They really drive home the point that with this burger stuffing device, anyone can now make a creative and delicious stuffed burger, "just like a pro chef."
The Price
The offer on the official website is that you buy one Stufz device for 9.99 and get a second one for free, you just have to pay the extra 4.99 shipping and handling. Here is the catch, you don't get the option for the second free device, it is automatically included.
The honest breakdown of what it will cost and what you will get is two burger stuffers for twenty dollars. Lets just round $9.99 to $10.00 and then round $4.99 to $5.00 (now you have, 10+5+5 = 20). It isn't a bad deal if this thing lives up to its claims and hype, but it is presented in a seemingly misleading way.
Also ordering can be confusing, so make sure you order only one, because you automatically get the second one for free. If you "order" the second one you are going to end up with four burger stuffers and out forty dollars. Order with care.
Is it for you?
Do you like kitchen gadgets?
Do you and your family or friends like burgers?
Do you grill regularly?
Do you like the idea of creating a more exciting burger?
Do you want a healthier burger option?
These are all reasons you might want this product. This might be just the thing to get your creative culinary juices flowing. It is fun coming up with different combinations of ingredients for stuffed burgers and I bet kids would love it too.
My two concerns are that it may not be as easy and effective to use as the product claims because it isn't made of a non-stick material. Also that it could leak.
Here is a hint, you have to figure out just the right amount of meat to put in the cups. Too little meat will lead to some leakage, while too much leads to uneven cooking and an undesirable texture. Additionally, you may want to pinch the burger at the seams where it may be likely to leak.
When all is said and done it is a pretty nifty tool despite a few nuances that it may take getting used to.
Final Assessment
Be cautious during the ordering process and be aware that you may have to clean the device several times when making multiple burgers and that there may be a bit of a learning curve when first using the product.
I like the concept of the StufZ burger stuffing device, but I really wish it was made of a non-stick type of metal instead of plastic. However they probably wouldn't be able to sell it for the same price if it were.
I love burgers and refuse to eat the fatty, chemical mess that is in fast food. Even most restaurant burgers are just plain not good for you. I like to get, quality, organic meats and create my own tasty and healthy burgers.
My husband loves to grill too, so this product is great for us. I can make stuffed turkey burgers, chicken burgers and veggie burgers as well. Sure it is kind of gimmicky, but so what? As far as I am concerned you can't argue with healthy and delicious.
Visit the official website here.
This type of product can be great for creating some healthy comfort food fusion. It is a really fun gadget for tailgating too. Tell your friends to bring over the ingredients they want to use to stuff their burgers and have a fun grilling party.