The Rollie EggMaster is an innovative cooking technology that was initially created with cooking eggs in mind but is very useful for an array of different culinary tasks and kitchen adventures.
The Basics: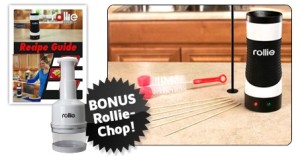 The Rollie was invented with the intention of making cooking eggs easier. The use "vertical cooking technology" is behind the convenience of this product.
Just break eggs into a heated cylinder shaped cooking device and eight minutes later it pops up out of the device and you have perfectly cooked eggs without the mess of cooking eggs in a frying pan.
Manufacturer Claims and Hype:
This product promises to save you time in the kitchen. It will save you time on both cooking cleaning. Easy to use while also eliminating the need to use a frying pan when creating a hot delicious breakfast and it will make "perfect eggs every time."
The Real Benefits:
Healthy – A tiny bit of cooking spray is all this cooker needs which eliminates excess fats and oils.
Easy – Easy to use and clean, it comes with a cleaning brush.
Variety – You can make a variety of dishes and the product itself comes in a variety of fun colors.
Extras – Recipe guide, Rollie chopper, wooden skewers, and a special cleaning brush.
Fun – Get creative, make new recipes and include the kids!
Compact and Convenient – Perfect for small spaces like dorms, apartments, RVs or hotel rooms. It would be really great for camping! Imagine having less dishes to do while camping, how nice would that be?
If you had the right inverter, you could even cook with the Rollie while roll'n down the road and finally eliminate the need to stop at fast food restaurants on road trips!
The Drawbacks:
The biggest drawback of this product is that "tube shaped" food, unless it is sausage, is not appetizing looking to many people. I have read some goofy reviews that somewhat hilariously poke fun at this device because of the way the food looks when it comes out of it, in particular, the eggs.
There are ways around this! Simply cut the food up, and "scramble" the eggs on the plate after cooking them in the Rollie.
My Take on the Rollie:
Seriously, I think this thing is super fun! The advertised benefits about saving time with cooking and cleaning and making life easier etc. are not as compelling to me as the fun factor for me.
I know that people are crunched for time and resort to eating unhealthy cold cereals for breakfast or are just plain disasters in the kitchen. That is not me. I am actually a pretty good cook. I am a foodie.
I come from a restaurant family. My father is a chef and I personally love to experiment in the kitchen! Interestingly, these are the reasons that I think the Rollie is so fantastic.
I really love the fact that this product comes with a recipe guide. I just know that the recipe guide would inspire me to create a bunch of new recipes myself. In my opinion, the manufacturer should be marketing this product a little differently.
I think that the real value in the Rollie is not in it's egg cooking capabilities, but in its many other possibilities. This is novelty cooking at its finest!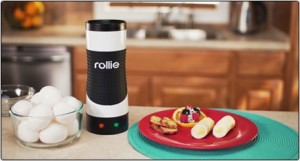 Think of the fun you could have with this thing and the creations you could make! Have you noticed the popularity of cake balls or cupcakes recently?
I am pretty sure you could make cake cylinders with this product. Who wouldn't want a cake cylinder on a stick? Not only would it be easier and less messy to eat, but this could seriously be a new kind of street food. No forks, knives or plates! I really think this product may shine in the dessert realm.
Cost and Value:
This is certainly in the eye of the beholder and I have seen it for different prices in a variety of different places. Some reviews I have seen think that the price is a bit high. I tend to disagree with that sentiment. If you think of most small convenience appliances like blenders, coffee makers, ice cream makers, waffle irons or toaster ovens, you are going to have to spend at least $30 to get a quality item.
At $29.99 the Rollie is a great novelty cooking appliance deal. If you are the type of person who would use it daily for breakfast or meals it is an even better bargain.
My Conclusion:
The Rollie inspires my imagination in terms of the meals and desserts I could create as well as the places I could take it and conveniently use it. I would really love to see it marketed towards a slightly different demographic than just "moms", because lets face it, cooking eggs really isn't that hard.
It would be particularly great for college dorm rooms, campers, travelers, road trippers and those who like to experiment with fun kitchen toys. If the manufacturer focused on the innovative uses for the Rollie beyond eggs at home, it would make it appear less "silly" and more like the great product that it actually is.
Rollie EggMaster Review

,