Home & Garden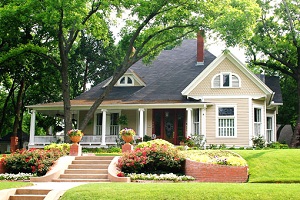 Having an attractive, comfortable living environment is more important than most people know.  Just think about how you feel walking into a messy, cluttered room.  Your spirits sink and your energy is sapped.  Who wants to do anything about that?  Might as well watch TV for the rest of the night.  Now think about coming home to a clean, bright entryway.  It gives you a little energy and makes you feel like you can accomplish things in peace.
Given the importance of the space we live in, it's no wonder that home and garden items are a top priority for American consumers.  It's not just about aesthetics either; well-functioning, practical items that keep our homes safe and easy to manage are just as valuable as those that make them beautiful.
Here we review a variety of home and garden items, keeping you informed about which ones provide the most household bang for your buck.  Great living spaces are important to us, and we want you to feel knowledgeable about the products you choose to maintain yours.
Shark Navigator Lift-Away Vacuum
If you haven't heard of Shark before, you'll probably be hearing more of them in the years to come.  This company has some great products available now for various vacuuming and cleaning tasks.  The Navigator Lift-Away Vacuum has become popular for a few reasons:  it's lightweight and quiet, its filter traps 99.99% of allergens, it has plenty of attachments, and, compared to Dysons and Kirbys, is very reasonably priced.
The customer reviews that have come in on the Navigator are overwhelmingly positive, making this vacuum a good place to start looking if you're in the market for one.
Read our full Shark Navigator review.

Magic Mesh Screen Door System

Unless you suffer from severe allergies, chances are you enjoy open windows in the spring and summer.  Even better than that is having an open door to let the fresh air and sunlight in.  The problem?  Insects!
However, if you leave the door shut, you get kids slamming in and out.  Enjoy both peace and quiet as well as fresh air with the Magic Mesh Screen Door System!  It lets you easily slip in and out, hands-free if necessary, and lets the warm breeze and sunshine in.
Read our full Magic Mesh review.
Flex Seal Liquid Rubber
Although the advertising for this product seems a little far-fetched, it actually is a handy little product to have available.  It basically is what it says: spray-able liquid rubber in a can.
This works well for times when you need a quick patch or coating without a lot of fuss.  Just spray, let dry, and, if necessary, repeat.  Done!
Read our full Flex Seal review.
Schticky
You may have rolled your eyes in disgust when you saw Vince on the infomercial for this product, as we did.  That said, don't discount the Schticky just because the spokesperson was ill-chosen.  Schticky is a reusable, washable silicone lint roller.  Its unique surface allows it to pick up tiny particles as well as large pet hairs.
All done using the Schticky?  Just rinse it off and tuck it away for next time.
Read our full Schticky review.
Seasonaire 6 in 1 Heater
The Seasonaire has been a topic of much conversation this winter, especially among those who are not so thrilled with their ever-rising gas or oil heating bills.  This unique heater, which utilizes infared technology to evenly heat a room, is being heralded as an "innovation" in the space heater department.
On top of keeping your room warm with far less expense than traditional heaters, it also acts as an air purifier and humidifier.  There's actually quite a list of functions which can all be performed by this one little unit.
Read our full Seasonaire review.
FabriClear Bed Bug Spray
Just discussing bed bugs can make some people uncomfortable, especially after the year in which many regions of the country experienced a rash of bed bug infestations.  Bed bugs are pesky and extremely hard to get rid of.  Even hiring a professional exterminator is no guarantee that they're gone for good.
FabriClear is a product that is both safe and natural, but extremely aggressive when it comes to eliminating bed bugs.  Simply clean the affected area, then spray thoroughly and expect to be bed bug free quickly.
Read our full FabriClear review.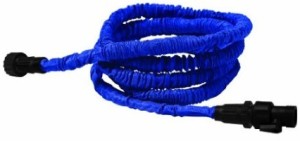 Expandable Garden X-Hose
Carting that big, heavy hose around your property is enough of a workout with adding any watering or gardening to your day!  And make sure you put it back, since leaving it out may end up in a shredded hose after accidentally mowing over it.  How about hose reels?  Even they can be a nuisance.
The X-Hose, on the other hand, is extremely easy to move around since it doesn't expand to full size until water is run through it.  It makes gardening and cleaning up so much more enjoyable.
Read our full X-Hose review.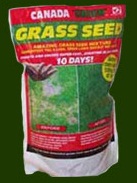 Canada Green Perfect Grass
Canada Green Perfect Grass Seed is a grass seed mixture that promises to produce a lush, beautiful green lawn all year round and in any climate. It also promises to crowd out weeds and resist insects. Canada Green is said to produce these amazing results with little or no maintenance.
Other claims are that the grass will begin to grow within just a few days. The end result will be a beautifully thick, plush, carpet-like lawn that will even be able to withstand heavy foot traffic.
Read our Full Canada Green Perfect Grass Seed review
Wipe New Auto Detailer
Don't you love the look and smell of recently ArmorAll-ed car interiors?  Give it a day, though, and you'll never be able to tell that you just polished up the inside of your vehicle.  Enter Wipe New!
This product is a new invention that rebuilds, restores, and renews your car interior – and keeps it looking that way.  Instead of fading away, this polish lasts indefinitely.  Good-bye, weekly ArmorAll treatment.  Hello, brand-new-looking car of mine!
Read our full Wipe New review.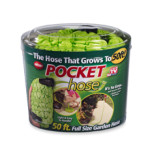 Pocket Hose Expandable Garden Hose
Like the Xhose before it the Pocket hose can expand to many times its original size. There is not a lot of difference in the 2 hoses but this one does come in a variety of colors.
Either way this is a much lighter hose than your standard garden hose and is considerably easier to deal with!
Read our full Pocket Hose Review.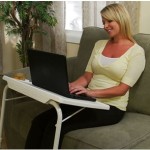 Table Mate Folding Table Review
After a long day at work its often much nicer to sit on the couch and watch TV while you eat dinner. Sometimes this too can be a challenge when trying to balance a cup, plate and utensils. With the Table Mate your couch eating problems are solved.
With 18 different positions and heights you are sure to be able to find one that will suit your particular size and need. Great for both food and work (paper, laptop, etc.) the ease of use storage and lightweight constructions of this colapsable table make it a great addition to every living room.
Read our full Table Mate review.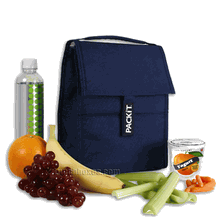 PackIt Freezable Lunch-bag Review
With eating out getting more and more expensive packing a lunch starts to look like a better, and often healthier option. Keeping your lunch cold and fresh is often a challenge however. Ice packs are easy to lose and a paper bag just doesn't cut it, enter PackIt!
With a freezable gel lining you don't have to worry about remembering to stick your ice pack in your lunchbox simply grab your lunch-bag from the freezer and pack it full of your favorite lunch. Up to 10 hours later you can enjoy your food at a temperature that will keep it fresh and unspoiled. Available in many colors and patters, there is an option for everyone.
Read our Full PackIt Freezable lunch-bag review.