With so many portable devices being marketed, it should be very easy to find one that will suit your needs and budget. However, just like ordering at Starbucks, what seems simple (coffee) can end up being complicated (tall decaf skinny caramel macchiato, thank you very much).
If you're in this position, hopefully this review can help you decide if the Kindle Fire is the right device for you.  We'll sort of sum up all the research to help you save time and figure out whether this is the one you've been looking for or whether you should look at something else.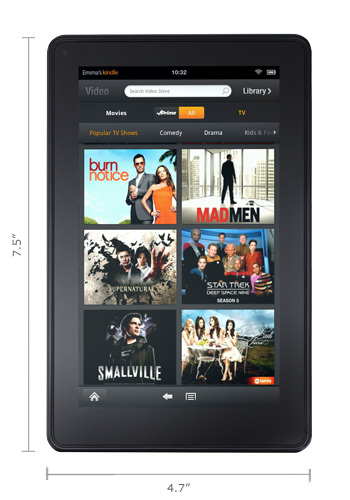 The Features
The tablet computer is being manufactured by Quanta Computer and is sold at an introductory price of $199. Here are the detailed specs of the Kindle Fire:
Android OS 2.3
8 GB storage capacity
512 MB RAM memory
7 inch Gorilla Glass display, multi-touch
PowerVR SGX540 graphics
WiFi connectivity, micro-USB 2.0, and 3.5mm stereo socket
Weighs 413 g or 14.6 oz
190mm (H) by 120mm (W) by 11.4mm (D)
This device allows easy access to TV shows, movie streaming, Amazon Appstore, and the Kindle's eBooks. When it was released, analysts claimed that it could be a potential competitor to the infamous iPad from Apple. It holds its ground with other Android devices as well.
The main strategy of Amazon was to sell Fire (the digital content) for a hefty profit, and not exactly to make money on sales of the Kindle device itself. By December 2011, millions of Kindle Fires were sold. In fact, estimates show that Amazon was able to sell 4.7 million Kindle units by the end of year.
The customized Gingerbread OS (Android 2.3) gives you easy access to the Amazon Appstore, which is available for US customers only. This unit supports different content formats including the Kindle Mobi, Kindle Format 8, PRC natively, and many others.
The Pros and Cons
Like other tablet computers in the market, it is important that you look into the pros and cons of the Kindle Fire before making a purchase.
In comparison to other tablet computers, the Kindle Fire is on the smaller side with its 7-inch HD display. Many tablets come with screens around 10 inches but some some competing devices also have 7 inch screens. However, the main advantage of the Kindle is that it is about the cheapest tablet on the market that still packs a decent punch.
The Kindle Fire comes with an 8GB storage which is quite enough for storing lots of songs, movies, and even books. That said, with Kindle, the main advantage is not actually the internal storage but the limitless cloud storage on the network servers of Amazon!
You can mount stereo speakers on top but you can only use the 3.5mm audio jack connection. This can be an issue for those who are used to Bluetooth support for headphones. When it comes to application or media formats, Kindle Fire can support almost anything (some were mentioned above) like MP4, VP8, OGG, MIDI, MP3, JPEG, BMP, PNG, and many others. However, the tablet computer does not support .mov; so if you need to use this kind of format, you should look for another device.
Since the tablet computer offers WiFi connectivity, you can connect at any WiFi hotspot or network despite its lack of support for 3G. One of the biggest drawbacks of the Kindle Fire is that it does not have a video camera and microphone.
While the Kindle fire is less powerful than many of its competitors and does not have the latest Android OS its price point more than makes up for it if you are not a power user.
Getting Content
When you have the Kindle Fire, there are different ways you can get content. The easiest and fastest way is through the Amazon Store which includes TV shows, magazines, movies, and many others. You can even choose from free books and movies.
If you have access to a WiFi network, you can download or buy content when you surf the web. Since the device comes with a micro-USB port, you can also use it for transferring songs or movies to the tablet computer. The data transfer cable is not included when you purchase the Kindle Fire. You will have to purchase it separately from Amazon.
Watching TV shows and movies from the Amazon App store works well as this is one of the specific reasons for creating the Fire. To help sell more content of course.
Ease of Use
Not all portable devices are user friendly (any first time user of an iPad, ahem, I mean… other device knows this). This is a great concern especially when buying a tablet computer like the Kindle Fire.
In a matter of hours, you can master the use of the device.  In today's modern world, most people have already used computers and smartphones at some point, right? The learning curve is not that hard, and once you get used to it, you can use the device anytime and anywhere.
For a price of $199, the Kindle Fire is a great deal. The device's battery can last for 6 to 7 hours, so you can carry it around without worries.
Conclusion
In the end the Kindle Fire is not the most powerful or impressive tablet on the market but its lower price and ease of use do a good job of recommending it.
If the basic uses of browsing the internet, reading and watching movies are what you want your tablet to do then this is the one for you. If you want a more powerful or larger tablet I suggest looking at the Galaxy Tab 2 or the Asus TF300.