It appears that Sony has once again done what they do best – deliver.  At least, that's what all the hype says.  Is it true?  Once again, we take a look at this product and tell you what we think about it.
About the Sony DVP-FX970
Let's start with the basics and lay out the product specs.
The Exterior:
This Sony portable DVD player measures 8.7″ (22 cm) in length, 1.7″ (4.3 cm) height, and 6.8″ (17.3 cm) depth, and a light weight of 1.98 lbs (900 grams). The characteristic color is black with a classy casing and slight texture.
The Display: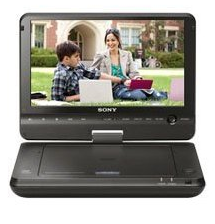 Sony seems to have gone all out to ensure an optimal entertainment experience with amazingly clear pictures. The 9 inch screen is fairly spacious considering the compactness of the whole package and comes with high resolution to guarantee a perfect view. The screen employs LCD technology with a 800 x 480 display format.
According to Sony, you will enjoy your preferred shows in perfect resolution that integrates excellent color, brightness, contrast and clarity. Conveniently, the 180 degree swivel flip screen promises optimal convenience and folds flat.
Owing to the discomfort that traveling may present, this screen allows you to view from any angle without having to turn the entire machine. It still allows room for access to controls at the bottom of the silhouette.
The Battery:
The key to a portable DVD player is a long-lasting battery that ensures the device remains operational for as long as possible. The Sony DVP-FX970 portable DVD player has a rechargeable manganese AC 120V battery.
The battery life goes up to 6 hours without recharging, which is approximately three complete films. To ensure that the battery runs for long, choose the minimum LCD backlight and keep it from overheating; room temperature is ideal.
However, it is important to note that the 6 hours are calibrated at manufacturer level and are subject to variations depending on the distinct operating environment, specific product configurations, pattern of use, and battery condition. If you are taking a road trip, the Sony DVP-FX970 comes with a car power adapter to ensure the player is always charged for the entire duration of your journey.
The power requirements on this gadget are between 100V to 240V and 60Hz.
USB File Sharing:
The USB port enables  you to play digital files on the go. You can enjoy videos, music and snapshots from any USB device. As opposed to previous models of Sony portable DVD players which allowed photos and audio only, the USB port can now be used to play video content in many different formats.
Touch Keys:
The easy to operate touch key controls on the bezel around the screen particularly come in handy. All controls are touch operated, except the 5-way rocker button for navigation and clicking on menu selections.
Compatible Media:
The standard digital audio is MP3 with an NTSC media format. It plays CD-R/RW, CD, DVD, DVD-R/RW, DVD+R/RW, Kodak Picture CD, mini DVD, MPEG-4, MP3 and JPEG formats complete with all repeat models, titles and chapters (track/all for CD and title/chapter/all for DVD).
The Sony DVP-FX970 supports multiple disc playbacks to enable viewing of content as well as listening to music. The playback features include A-B repeat mode, instant advance control and instant replay, as well as forward and reverse skipping functions.
Audio Capabilities:
Employing a stereo output mode and a Virtual Dolby surround effect, the Sony portable DVD player provides crisp sound quality. The two speakers fitted at the base of the controls below the screen means that they are always facing the same direction as the screen, an attribute that make sound transference surprisingly good for such a small gadget.
Sound quality is usually subjective depending on the type and quality of media being played. That said, the volume on this device can be increased significantly to cater to several people at a time.
Coupled with two 3.5 mm stereo headphone jacks, it further enables two people to listen in at the same time.
Input and Output A/V capabilities:
When you want to turn your living room into the ultimate entertainment hub, you can link up the portable DVD player to the television using the A/V cable that comes with the package to the A/V output port. This automatically converts the Sony DVP-FX970 into a benchmark DVD player without any configurations.
Other features include a remote control, child lock and parental control, automatic power off, screen saver, and many others specially designed to customize the Sony portable DVD player to suit your lifestyle.
One thing that we realized is that to truly enjoy your portable DVD player experience, you may want to consider a car headrest mount.  That way you can mount swivel and flip style portable DVD players in your car.  They have adjustable straps that make for simple, fast and secure mounting process. It also helps protect your player from wearing and staining, and provides easy access to all the ports available on the gadget.
Things We Don't Like
The sensitivity of the touch controls tends to be very high and the rocker switch a bit tedious to use, especially if you have never used a PC jockey before. Is seems that when you rotate the screen you constantly end up touching the Option or Play controls.
To overcome this problem, try shifting the mechanical rocker on the side of the device to the Hold status to lock out all other controls. The remote control should also help you get around these interface issues.
Motor noise was a significant setback for prior Sony portable DVD players; an issue that seems to have been adequately addressed in this model, fortunately. Even so, once in a while the sound of disc spinning tends to be louder than the audio, especially when you insert the disc. For most players, the motor spins quieter and at a lower speed as soon as the movie starts.
Conclusion
The Sony DVP-FX970 does seem to be an improvement compared to its predecessors such as the DPV-FX950 and at the time of this writing is getting much better marks than the newer version the DPV-FX980. It is an ingenious little piece of tech for use away from home.
Its portability, convenience, and plentiful features have helped it become very popular in the current market.  We think the benefits of owning one outweigh the drawbacks, which are few.
Sony DVP-FX970 Portable DVD Player Review

,