In an economy where it can be prohibitively expensive to have your vehicle cleaned and treated by a professional detailer (detailers can make about $100,000 a year), and even do-it-yourself car care products can be too costly, a product like the "seen on TV" Wipe New might just be the answer.
The Advertising Claim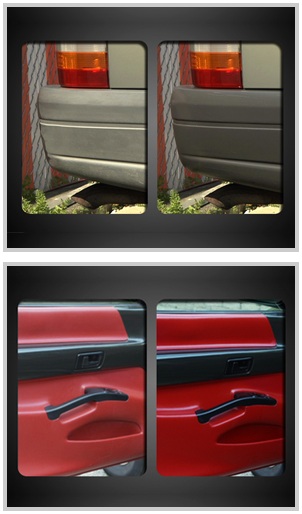 Visit the Wipe New Official Site Here
Virginia-based Avento Corporation, the makers of Wipe New, claim their product is better than others because of its low cost, ease of use and long-lasting results. In the makers' video advertisement, they promise one easy application makes your vehicle look "showroom new," and the results will last for at least two years, in most cases.
If these claims are true, this new product is worth a try. After all, detailing a vehicle usually involves a lot of work, including several applications of expensive silicone-based products and a lot of elbow grease, for a look that fades pretty quickly.
Its secret weapon, the company claims, is its nano-polymer formula which "penetrates deep and binds to the surface to restore showroom luster to faded, weathered surfaces and protect against the elements." Plus, it's versatile enough to be used on bumpers, rims, dashboards, the console, visors and the instrument panel. In short, it restores just about any exterior and interior plastic.
Not only can this stuff be used on plastics but paint as well. This is for the more advanced or professional detailer as the process is somewhat involved however the results are amazing! The manufacturer removed the YouTube video showing how to do it on paint so it must really be a "not indorsed" way to use it. The results the pro got looked great though.
For $19.99, plus a double shipping and processing fee of $15.98 ($7.99 for the solution and $7.99 for the bonus freebies), you receive a double-size bottle of Wipe New, which they say is enough to treat two cars, and the free Pro Detailing Kit. The kit includes two yellow microfiber applicator cloths, a red microfiber headlight applicator, a blue headlight polishing block, a detail brush and a pair of nitrile gloves.
What About the Freebies?
As freebies go, this Pro Detailing Kit is a pretty good one. The microfiber cloths are designed to absorb better without fraying or creating excess lint.
The headlight prep pad is used to prepare the headlight lens before application. The pad, which has a very fine 2000 grit sand surface, will gently remove heavy oxidation from the lens without damaging the acrylic.
You can use the sponge tip of the detail brush to touch up the small, tight areas around the headlights, grill inserts, rear view mirrors, interior HVAC vents and various difficult-to-reach spots.
The gloves are recommended during use because the dried solution might be difficult to remove from skin, plus some people might find the solution irritating on their skin.
It is worth noting that the offer includes a two-year money-back guarantee, but not when used use on glass, mirrors or painted surfaces, or on any surface for which the product was not meant to be used.
Shipping is done by ground mail, and although rush shipping is not available, the company assures customers that orders are usually delivered in one-to-two weeks. At this time, this product is available only in the contiguous 48 states and Washington, D.C.
The Final Assessment
On the whole, this appears to be a useful, easy-to-use product, but there are some concerns, one of which is its drying time.
Avento, the manufacturer warns that a treated vehicle has to "cure" for 24 hours before it can be exposed to any moisture. This includes rain, sprinklers, puddles and car washes. Getting the vehicle wet before the curing period is over could result in streaking or spotting. To help alleviate this problem, the makers suggest using a garage or car cover.
Users should also be aware that Wipe New hardens as it dries and could cause damage to clothing, as well as the previously mentioned skin concerns.
The solution should not be used on glass or mirrors as it could create a "wavy" effect. If the solution should come in contact with glass or mirror, it must be wiped off immediately before drying.
Streaking also could appear on approved surfaces which have not been properly dusted, de-greased and cleaned with soap and water.
Still, there are some great features worth considering. For example, those of you curious about fiberglass surfaces should know that Wipe New can be used to restore the shine to fiberglass and protect it from the damaging ultraviolet rays of the sun.
Also, it's hard to beat a car care product that promises an attractive luster for at least two years. People who like to drive a clean, attractive car, but have little interest or time for constant upkeep will especially like the easy, one-coat application process.
As for cost effectiveness, when you consider leading car care products often cost quite a bit more per use, and the cost of professional auto detailing is through the roof, this looks like a pretty good deal.
One thing we really liked is the tutorial videos (included in this article) put out by Avento Corporation. You will see that these are not hyped up videos trying to hock a product they really show you from top to bottom how to use the product and how it works. The product speaks for its self throughout the process.
The Public Review
Although public reviews are limited at this point, a handful of users have posted their thoughts online.
Some are quite positive, like the gentleman who wrote, "This product is the real deal. It is a game changer." However, some question a few of the offer details, like the lady who wanted to know more about the size of the "double-size bottle": "Nowhere in any material offered is the actual size and weight of the bottle given."
Still, personal reviews, both positive and negative, may not be too useful for this type of product. In the end, car owners are pretty particular about the products they use. Those interested should probably try it for themselves and decide.
Only time will tell whether auto enthusiasts, who tend to be skeptical about a new car care product until they've tried it, latch onto this product. In the meantime, however, Wipe New appears to do a great job and car owners who appreciate a well-kept vehicle with a like-new appearance will be quiet satisfied with the results.
Wipe New is not available in stores but can be purchased from their official site.
Wipe New Auto Detailer Reviewed

,