Have you ever seen someone pull their hair back and stick it effortlessly into a glamorous twist?  I always wished I had the ability to do that, but I've never been able to master it.  Enter Twist n Clip!  When I saw the commercial, I knew I had to try it.  So what is it?
Twist n Clip is a way to easily style your hair in just a few minutes time. This product is another one of the infamous "As Seen on TV" line of products, which unfortunately made me skeptical  as soon as I saw it.  However, it is very appealing for me to have something that can look stylish, keep my hair out of my face, and be used quickly.  I usually go for a ponytail, but always wish I could do something a little more chic.
I decided that, despite my reservations, I would check it out.  Some hair styling products work and others do not, so where does Twist n Clip fall on the spectrum? Let's take a look at the claims and whether it really works as it claims.

Overview
Basically, the Twist n Clip looks like a large, glorified bobby pin.  Maybe not exactly the same as a bobby pin, but certainly not fancy.  It's just a shaped "pin" that you put in your hair, twist, and then hook at the end.  Simple?  Definitely.  It gets two thumbs up from me for that.
The commercial says it works with all hair types – limp, stringy hair or long, thick curly hair and every type in between.  It also comes with a glass "tattler" which is essentially a little bling for the end of the clip.  Sort of a jeweled strand that hangs down from where the clip is.
The clip is versatile and can help create several different hair styles.  It comes in 3 shades: bronze, black, and blonde.
The Claim
The claim is that Twist n Clip can save loads of time in the morning simply by using one clip to twist and hold your hair in place. It's just the right size for all types and thicknesses of hair, according to the sellers. Twist n Clip's site says you can get multiple styles from using this small hair clip. It's supposed to be great for swimming, the playground or when you want to get a glamorous hair style.
The Hype
The hype is that it is a little device that allows you to do lots of things with your hair in a short period of time. It is relatively inexpensive so you can use it and get a big bang for your buck. Consumers are looking for something that will actually work when styling their hair.
The device comes with easy to use directions. You can collect the hair into a medium height ponytail.  You then twist the pony tail straight up after making 2 to 4 turns. They then use the Twist N Clip and slide it underneath. It can be clipped like a safety pin and closed so you have a closed pin in your hair.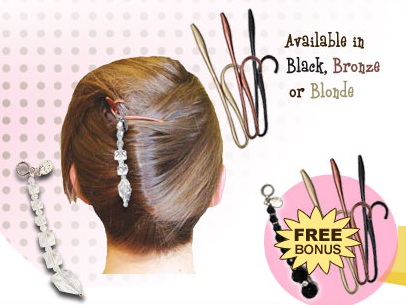 The Cost
The Twist n Clip is currently only available at the manufacturers official site and costs $10.00 for 3 with a $6.99 shipping charge. This product comes with 3 hair clips, and the Twist and n Clip style guide. It also comes with a clear glass "tattle tail" that can make your styles unique. For a device that promises to make your life easier, that seems to be a pretty good deal. It also comes with a bonus 3-pack of Twist n Clips in the same color. You also get the crystal black tattle tail as part of the featured price.
The Commitment
There obviously is not much of a commitment in buying clips for your hair. This is something that many people can afford and use, especially for those that have a busy lifestyle and need an easy way to style their hair.  Hair clips are not particularly expensive, but to use something that is durable, and comes with a style guide is unique. Those that always wonder about what to do with their hair will appreciate the guide.
Reviews
Twist n Clip reviews show that most individuals that purchase this device are happy with it. They say that it works really well with long thick curly hair, so it basically does what it says that it is going to do. Other individuals weren't happy with the shipping, but by and large the reviews have been very positive about this product. Those that have the product feel that it works as was promised.  Some users have said they don't care for the tattler, but that's not a big issue.
Another Twist n Clip review says that if you need a way to put your hair up, and are unable to find conventional hair clips that work for you, this might be what you need. The costs are low enough that people are happy with the product.
For those that are undecided about Twist n Clip, try looking at some of the reviews sites and make a decision about whether this product is worth purchasing. It may not be for everyone, but those who have hair troubles and are looking for a fast and easy hairstyle may find the Twist n Clip to be just what the doctor ordered. Try it and see.
Twist N Clip Review, a Good Hair Styling Solution?

,