If you love cleaning your house often, you are probably in a universe of your own. The truth is that most people are very reluctant to clean their homes, especially the areas which become covered with dust and pet hair rapidly.
Cleaning those areas manually can be quite tedious and time consuming. Supposedly the Schticky helps you clean those hard-to-tackle spots without much hassle or applying a lot of force. Just like the name suggests, it makes use of a sticky silicon which picks up the dirt from the areas it's rolled on.
The market today is saturated with various products, all of which claim to help make your cleaning operation much easier. However, some of these might not offer the actual kind of output as purported in their infomercials. It's important for you to thoroughly research the product you're buying to ensure you get a good deal and a quality tool.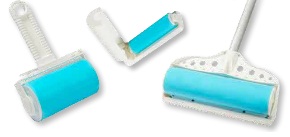 Schticky is another product that claims to give you that much needed convenience and hassle free cleaning experience. According to the infomercial, it not only saves the amount of time you use in cleaning but also the amount of money you need to invest in making the first purchase.
One of the major elements that makes this lint roller stand out from the competition is the convenience it offers you. Let's take a look and see if it lives up to the claims.
So What is Schticky?
Most people know this product as simply a cleaner and lint roller. It can be used on different types of messes. You can use it to clean up flour spills or dog hair stuck on your couch, as well as dust covered lampshades and cat hair on your favorite jacket.
Basically, it can do anything that can be achieved with the use of any standard lint roller. However, there is one aspect that sets it apart from the rest. It does not rely on disposable inserts or sticky sheets to pick up messes, but rather has a washable, reusable silicon surface.
Schticky comes with an innovative tactile silicon sheet which gets sticky when it dries up and slick when dampened. This allows you to use the product repeatedly and makes the cleaning process run smoothly. Schticky is a one-time purchase, unlike a traditional lint roller that is quickly used up.
Which Schticky?

Schticky comes in three distinct sizes in order to suit the varied customer preferences and uses. The smallest folds easily and can fit into a pocket. Its size makes it easy to carry with you on business trips or occasions which require a neat, clean appearance.
Standard size is more of the conventional size of any lint roller. It is intended for cleaning dry messes in different areas within the house.
Then there is the maxi size Schticky; it is the size of a mop or broom and can be used conveniently for cleaning ceilings, floors and many other areas in the house.
If you buy from the Schticky official site they include all 3 for one price.
Does the Schticky really deliver?
The things we like the most about the Schticky are its versatility and its efficiency.  The roller head is capable of handling varied degrees and types of messes.
Whether you need to clean up pet hair, dust, or spilled cereals, Schticky seems to be up to the task. According to reviews, there doesn't seem to be any deterioration on the stickiness of the product.
We also like that Schticky not only saves you money but also the amount of time it takes to get a mess cleaned up. Instead of spending lots of cash in purchasing disposable rugs, it makes sense to only spend your money once on a product that lasts.
Pros
This product works the way it is represented on the commercials. According to users, the information offered by the manufacturer is true.
Removing dirt such as pet hair is as simple as rolling the lint rollers over the cushions as you sweep off the unwanted hair.  We give it big points for ease of use.
Cons
You need to consistently ensure that the lint roller is clean all the time. Even though it is effective for picking up dirt particles, it can fill up quickly.
Schticky only comes in one color.  Although unnecessary, we think it would be fun to offer a range of bright colors or patterns.
Common Issues Customers Have Raised About Schticky
Most people who have used this lint roller have noticed that it gets dirty much faster than other brands in the market. It also takes time to stop and clean it off between rolling.  However, this dirtying effect is exactly what we like, since the reason it gets dirty is because it's picking up every little thing!
In Conclusion – Is Schticky Really Right for You?
If you enjoy a clean living environment, you may want to consider purchasing the Schticky. Its price makes it a worthwhile investment in return for pet-hair free clothes and surfaces.
Remembering to continually buy disposable lint rollers can be a hassle, and having to roll back and forth over and over again in order to pick up all of that pet hair can drive you crazy!  Schticky is a good alternative.
We also like that it comes in a roller size for cleaning large surfaces, something that traditional lint rollers are not capable of doing.
Whether you are a clean-freak or just like to get to work in pet hair-free clothes, try the Schticky and make life easier on yourself.