Regular cleaning of dust and dirt in the living environment is a tedious and time-consuming task; even more so in the fast pace of modern day living. This makes for the need of a vacuum cleaner that is light-weight and works quickly and effectively. The Shark Navigator Lift Away vacuum claims to be one such appliance but we wanted to find out!
Shark Navigator Lift Away Official Site
About the Shark Navigator from EuroPro
Shark is one of the many household-appliance brands created by Euro-Pro Operating LLC. Mark Rosen, CEO of Euro-Pro says they strive to improve on the quality of Shark products through constant innovation and commitment to excellence. All Shark Line products such as sweepers, steam mops, vac-then-steam cleaners provide innovative and simple solutions to improve your quality of life. Shark has now brought to market the versatile Shark Navigator Lift Away vacuum cleaner with innovative new technology designed to ease the daily cleaning routine.
Pros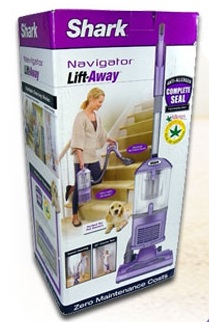 Light and easy to maneuver
Quiet
Good/adjustable suction
Lots of attachments
Washable lifetime filters
Cons
Can topple when using the hose
25′ cord
On board storage for only 2 attachments
2 part extension handle, adds a step
Technical details of the Shark Navigator Lift Away Vacuum
The Shark Navigator's body is made of durable plastic that is a combination of ABS and PP plastics. It also uses quality metal components and rubber parts.
This Shark vacuum has an upright design with a physical dimension of 45.2″ X 11.4″ x 12.4″ and is extremely light-weight at only 12.5 pounds. Its body includes Shark's signature lavender color.
This vacuum cleaner is equipped with a twin motorized brush-roller, swiveling steering, detachable 7.5 pound canister with bottom empty design, super-stretch hose, powerful nozzle , on-board service tool and dusting brush, dust-cup with good holding capacity and a 25 foot long electrical power-cord. In addition to this, it comes with premium cleaning tools such as the air-powered turbo brush and extra-long 24 inch crevice tool to reach some of the tightest places.
Improved Performance, Guaranteed Technology
Shark Navigator Lift Away uses a sealed "No Loss of Suction" technology to ensure steady suction and continued airflow. This technology keeps the dust collected in the cleaner away from the filters by spinning the air at a high speed. Due to this, the filters remain clean for a greater length of time and the need for frequent filter cleaning and replacement is eliminated.
It features the smart bag-less technology that uses the detachable canister instead of bags to accumulate dirt. This canister opens up at the bottom so that the waste can be emptied with just the press of a button and is ready for use again. This saves money typically spent on replacing bags as in other vacuums.
The Shark vacuum traps 99.99 percent of dust and allergens and is certified by the British Allergy Foundation. It achieves this with its Anti-allergen Complete Seal technology that completely seals the dust and allergens in.
This Sharp vacuum cleaner is built to stand the test of time with its 'life-time belts' and 'life-time filters'. It has an electronic system that automatically shuts off when its nozzle or brush encounters a huge block. This reduces the wear and tear on the motor belt, thus increasing its life.
Features of the Shark Navigator Lift Away

This vacuum cleaner with a compact body is a very quite performer. It is easy to push, pull and carry this feather-weight appliance. Its smooth wheels glide the vacuum cleaner easily on all surfaces and its dust-cup has an amazing capacity to collect up to three dry quarts of waste before needing to be emptied.
The hose is connected between the canister and the steering-handle making it easy to detach the handle and attach the included cleaning tips. Along with the swiveling steering, this cleaner offers flexibility of movement and works around furniture to reach difficult-to-access places. It also makes cleaning stairs and tight spaces effortless.
Its powerful motor creates huge suction capable of getting even the deepest dust particles from in the carpet while its roller brush fluffs the carpet nicely. It also offers adjustments to spot suction rugs and drapes. Pet hair and dander that mess up the furniture is effectively removed with its included Turbo brush attachment. For cobwebs and other above floor cleaning, its 24″ extra-long crevice tool works wonders. No ladders, no accidents! The Shark Navigator also does very well on bare floors.
When not in use, attachments can be stored in the included large accessory bag.
This vacuum is nearly identical to the Dyson in function but at much less than half the price offers a much more affordable price. Euro-Pro even offers an amazing ten year warranty on this unit when purchased directly and five year warranty when purchased from other outlets like Amazon and Wal-Mart.
Customer Opinion on Shark
Shark Lift Away has been rated either four or five stars by over 90% of customers online and 96% of online reviewers would recommend the shark to a friend. As for Shark Navigator reviews:
Annie user of over 2 years said on Amazon:  "this one is a keeper! It makes vacuuming kinda fun :)"
H. Goulette on Amazon said: "This vacuum works magic on pet hair. The attachments also work great for the car, boat, and RV. I would highly recommend this product."
Tips for Maintenance and Better Performance
If the airflow in the vacuum seems to be restricted or if you feel that the dirt is not being collected properly. This is an indication that the dust cup, air-spinning chamber or filters need to be cleaned. Once they are cleaned, the blockages will be cleared and the vacuum will perform well.
To ensure continued and excellent performance, it is necessary to empty the dust-cup when it reaches max-fill level, empty the air-spinning chamber once in 6 months, rinse and dry the foam filters once in 6 months and the felt filters once in 12 months.
This minimum maintenance will help to enjoy the benefits of Shark Navigators for many years.
Conclusion
The Shark Navigator Lift Away is superior to other vacuum cleaners with HEPA filters and no sealed system. It offers the features of expensive brands like Dyson, Electrolux and Miele at a really affordable price.
When purchased directly from the manufacturer you not only get a 5 year free warranty extension for a full 10 year warranty but Shark also includes a free steam mop. They also offer to break up the low price of just 199.80 in to 4 payments…at no extra charge. And to wrap things up there is a 60 day money back guarantee if you are for any reason unsatisfied. Oh, if you do decide to returne the Navigator for any reason they pay for shipping and you keep the mop.