No No, the at home hair removal sensation, is sweeping the market, offering a complete and more affordable option for those who don't want to do laser hair removal. With summer right around the corner and beach weather already here, the No No line of products offer a solution to unwanted body hair for the skin conscious consumer.
Supposedly, this tiny and cost efficient product provides magically smooth skin and reduces hair growth over time – even in sensitive areas. From embarrassing facial hair to legs, there is nothing, according to the infomercial, that No No can't handle.
The Big Question – Does it work?  Let's take a look at the product and then we'll talk about what users have to say.
The No No Secret: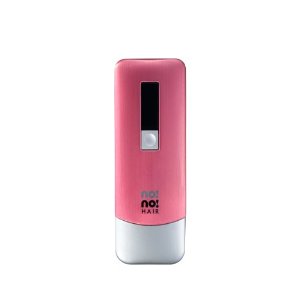 The secret to No No Hair is a simple yet unique trick for those who are looking for a different way to manage hair removal. Instead of resorting to messy and painful wax, or being tied to the shower for hours of weekly shaving, this small, handheld appliance works by sending directed heat pulses at the skin, called thermal transference.
This thermicon technology ensures not only safe and efficient hair removal after only one use, but also the reduction of hair in the future. Owning a hair removal tool of this caliper that is convenient, versatile, mobile and affordable saves the consumer time and money that would otherwise be spent on multiple laser hair removal visits, or an endless supply of razors, shaving gel and other hair removal products.
For a relatively low cost of around two hundred and fifty dollars, a lifetime of other products and services can be avoided. With convenience in mind, customers can use No No Hair anywhere, and it requires no additional equipment or costly upkeep charges. Whether watching TV on the couch, or getting ready for work, or for quick touch ups before a night out, No No Hair is a handy tool for any circumstance or occasion.
Product Details:
The No No Hair removal system out of the box contains the No No Hair device itself in either silver or pink, Two thermicon tips – one wide for large areas and one narrow for smaller parts, an exfoliating buffer, an after treatment lotion, instructions in cd form, a handy user quick guide, a travel case, charger and warranty complete with a complete money-back guarantee.
It weighs under fifteen ounces and is less than seven inches long.
At a price of $250-$270 on average as opposed to costly laser hair removal treatments, it does seem a bit costly.  Before considering No No, you should definitely consider how much you're already spending on hair removal and if the cost is worth it to you.
Even those who stick to a basic razor and gel may make up the difference eventually, but it would most likely take years to make that cost up.  However, if you're already opting for professional treatments, the No No may make sense for your pocketbook.
For example, laser hair removal of the legs alone in a doctor's office can range anywhere between $300-$700 per session. Also, the No No can be purchased for the average cost of three wax treatments at a salon. With multiple sessions needed, professional laser hair removal can easily cost thousands.
It is worth noting, though, that the thermicon tips will wear down over time, lasting several months on average depending on frequency of use, so replacement tips will need to be ordered. Replacement tip packages contain three wide or narrow tips and a large buffer for $27.99.
For time conscious customers who wish to ensure no downtown in at home treatments, the replacement tip set can be ordered along with the No No product all at once so they are on hand when needed.
Authenticity:
Many consumers who have tried the No No product have offered rave reviews, but have also issued a caution to other consumers. They advise buying directly from the No No official website or a reputable seller on Amazon, as opposed to looking for a lower price elsewhere online.
Only the official site offers the warranty and product guarantee, and with a product of this quality and effectiveness, it is no doubt that multiple knockoffs will be quick to follow. With the No No offering completely safe and pain free hair removal at home, a cheap alternative may have associated risks that aren't found with the genuine article.
No No Customer Reviews:
The No No has been met with mixed reviews, but lean on the positive side with an average rating over four stars for the product offered and the value and quality.
On the negative side, many customers have reported the smell of burning hair, which makes sense given the fact that the product works with heat to remove hair. However, the scent is not unbearable to users, who continue to use the product successfully.
The vast majority of customers have reported definite improvements in the texture of skin, reporting that is not as course as when they first started using the product. Also by the third or fourth week, hair is reported to be sparser than it was in the beginning.
Customers who have complained that the No No product is ineffective in the first week or so need to keep in mind that this is a long-term solution to hair removal, and not an overnight magic trick.
The No No works over time, the product website advising to use No No, along with the lotion and exfoliation buffers 2-3 times a week for the first few months, with fewer treatments required to maintain hair over time.
After an average of 5 weeks, the vast majority of customers have reported definitive slowing of hair growth, with some patches completely clear.
Male users who have reviewed No No for hair removal of the chest, shoulders and back have reported remarkable results. Even though best results are achieved using the product as described 2-3 times a week, use of the No No takes less time than shaving or waxing at home.
Many reviewers have remarked on the ease of use and simple, easy to understand instructions.
To Sum It Up:
While there is no permanent hair removal solution and upkeep is a necessity to keep unwanted hair at bay, the No No's unique heat treatment is overall a budget friendly and effective tool for at home use.
Without having to make endless waxing appointments or spend hours in the shower, users can get up and go with confidence, eliminating unwanted hair with ease and comfort. Just don't expect perfection overnight, it does take some time usually 4-6 weeks.
No No seems to be a painless hair removal solution that saves time and, for those who are serious about hair removal, can even save money.
No No Hair Removal Tool Review, Flop or Not?

,