Are you tired of the ridiculously high cost of heating your home?  Have you thought about a woodstove and yet cannot bring yourself to chop all that wood?  Do your sinuses dry out in the winter from forced air heat?  If the answer to any of these questions is yes, we've heard of a new heat source that may promise some relief.
The Seasonaire heater is a new product that claims to be a solution to many problems people have with their current heat situation.  The trick is in the technology: unlike radiant heat or forced air heat, it is an infrared heating system.
The Seasonaire promises to lower utility costs by providing heat to an area up to 1,000 square feet. This seems too good to be true, especially in the dead of winter.
If you have a room in your home that seems to be cooler than others, then you definitely may want to check out this product. It may be a possible solution to help lower bills and provide a moist heat that traps 99.97% of all dust and particles in its filter.
Overview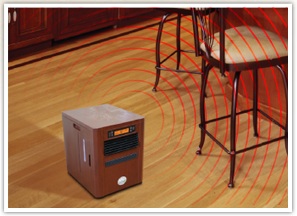 Everybody dreads the big heating bills and the way that heat seems to dry the skin. One of the biggest problems with regular furnaces is that they cost so much to operate. If the furnace is powered by gas, there can be some hazards involved.
There have been many portable heaters on the market; however, nothing compares to Seasonaire. This piece of equipment is cost-efficient to run and allows you to turn down the thermostat. It literally costs less to run than some small appliances!
Here's how the Seasonaire heater works: it draws air in through the back, filters it through a HEPA filter, purifies it with UV rays, heats it with infrared technology, adds moisture to it and releases it into the room, warming all the surfaces in the room at the same time.
So really, it's not just a heater.  It's a heater, air purifier and humidifier all at the same time.
When you think about it, if one little box that sits on the floor can heat an entire home, it would be worth the price. If you want to keep your family healthy during the peak of cold and flu season, then this may be the product for you.
It doesn't matter where you put the heater; it will heat from the floor to the ceiling and wall to wall. It gives a constant and steady stream of warm air and is cool to the touch, so it is safe around children and pets.
It also includes an LED display, remote control and auto shut- off feature.
The Claim
The makers of Seasonaire state that you can reduce or even eliminate the need for a traditional furnace, as well as a humidifier and air purifier.  That's a pretty big claim, although given the Seasonaire's numerous functions, it may actually be true.
The Cost
You can buy Seasonaire from the manufactures for around $399. They have a special that allows a person to bring it home for only $39.95. After this 60 day trial, the balance can be paid in easy monthly installments of $89.95.  For one heater that does seem a bit pricey; however, if compared with the utility bill costs incurred by the average family, it seems more reasonable.
There is some ongoing cost associated with this product. The HEPA filter will need to be changed periodically. HEPA filters can be a bit expensive; but for the 99.7 percent of purified air, it is worth the cost.
While these heaters are a little new to the market, they are more expensive. Some consumers are waiting until the hype has gone down to get a reduced price.
The Commitment
The main pitch with this heater is that it should reduce the utility bills and make the home have warm, moist air as opposed to a dry heat. Depending on what your utility costs are right now, this may or may not be of benefit when considering the cost.
Once you've been able to see how great this moist heat can supplement the traditional furnaces, you may think it is worth every penny. It could pay for itself relatively quickly.
Evaluation
The consensus by users is that Seasonaire works well. There are a few things that need to be tweaked, but in general it seems to live up to the claims. People are saying that there is a noticeable different in their home when this unit is operating.
The heater is easy to be moved around and safe to be around children and pets, which is another plus. There are some complaints that the filters are expensive and need changed to be changed frequently. Overall, the various reviews show that there is a great deal of user satisfaction.
Final Conclusion
We have to give the Seasonaire portable heating machine the Thumbs Up, because it functions well and makes a dramatic improvement in the home's utility cost and adds consistent heat. While there are other heaters on the market that tend to also get good reviews, they do not have the fan, filtration, UV/HEPA purifiers and consistent positive ratings of this heater.
Seasonaire 6 in 1 Heater Review

,