If you've ever had the desire to make an ice cold slushy at home, the Slushy Magic slushy maker claims to be the product for you. Instead of trekking to the gas station or spending a lot of money at your favorite hangout, you can now whip up a quick refreshing slushy using the Slushy Magic.
Slushy Magic is an As Seen On TV featured product. But does this product do what it claims to? Let's get some more information before we decide.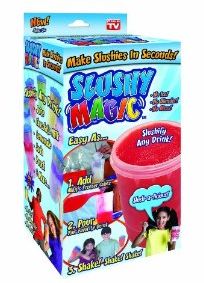 Overview of the Slushy Magic
Slushy Magic uses special Magic Freezer cubes that allow the user to mix a simply by shaking. This is great for people who do not have a blender, as no blender is needed with the Slushy Magic product.
The Slushy Magic comes with a handy and helpful drink guide that gives the user new recipe ideas to try out using their new slushy maker. This can be a fun rainy day project if you have small children, especially since no blenders are required.
If you do have small children, you may wish to take advantage of the two for one offers on the Slushy Magic, since they are relatively inexpensive. It will also save you the hassle of having the kids argue over who gets to make the next slushy. Some days that's worth the twenty bucks alone!
This product features a shaker cup with a lid in which you simply place your shaker cubes and keep shaking in order to turn the liquid into a homemade slushy treat. Three magic freezer cubes are included with the Slushy Magic slushy maker.
A combination spoon and straw is also included with the product, making your frozen treat fun to eat. Kids will love using this spoon/straw to enjoy their tasty creation. The Slushy Magic also comes with a handy owner's manual to help you fully understand how to use the product.
The Hype
Slushy Magic offers the consumer the ease of mixing a slushy without requiring a blender. Simply shake up the Magic Freezer cubes made from your favorite beverage. No ice cubes are used, but rather the reusable magic freezer cubes. The cubes contain a salt solution used in the freezing process that helps the liquid become slushy.
The Cost
The Slushy Magic slushy maker is an affordable way to make slushies at home using your preferred choice of beverage. The cost is around twenty dollars with some online sites offering the product for as low as $12.99 for one. There  is also  a buy one get one free offer for the $19.99 price on the official As Seen On TV Slushy Magic site online at http://www.orderslushymagic.com.
Evaluation
The Slushy Magic products appears to be easy to use, and something that both children and adults can enjoy doing. The slushy making process involves four simple steps, which are: 1) freezing the magic cubes, 2) placing the cubes into the slushy maker, 3) adding a cold beverage of your choice, and 4) the final process of shaking, shaking, shaking. Sounds fairly simple and pretty fun!
There is also some good news about this product, especially since it will most likely be used in homes with small children. The Slushy Magic contains only non-toxic materials and does not contain the harmful chemical BPA. This is good to know!
According to the official site, the magic freezer cubes use "snowflake magic" to "slushify" your drink. The whole process claims to work in less than one minute. Common drinks such as orange juice, apple juice, lemonade, Kool-Aid, and even milk with chocolate syrup can be used and turned into a tasty frozen beverage.
From customer reviews, it is said that carbonated beverages such as soda tend not to work as well in the Slushy Magic, because the shaking process required to make the drink into a slushy creates a lot of foam and a lot of mess. However, others state that even using soda works great.
For the parents out there wondering if they can make a tasty frozen alcoholic beverage with the Slushy Magic, the answer is maybe. According to some consumer reviews the magic freezer cubes don't work so well on drinks containing alcohol. Others claim that it works well as a shaker for mixed drinks. Since alcohol freezes at a lower temperature it most likely depends on how much alcohol is in the given beverage.
With all of this being said, this product seems to get mixed reviews. Let's face it, a lot of these gadgets never really work as well or as easily as the product claims to in the advertisements.
*Some Pros
A nice thing about this product is that the magic freezer cubes can be used over and over again by simply re-freezing them. This feature makes this product preferable over other food and drink making toys and gadgets that always require expensive re-fills. The Easy Bake oven comes to mind where the price of the replacement baking mixes is comparable to buying a ready made cake at the store. At least with the Slushy Magic, everything you need for continued use of the product is supplied at the time of purchase.
*Some Cons-From Slushy Magic Reviews
The most common customer complaints in Slushy Magic reviews seem to be that the lid leaks. Other customers complained that the magic freezer cubes were already cracked when they received the product. Others state that after you add the three magic freezer cubes to the cup, you only end up with a small amount of slushy product because the freezer cubes take up so much room. Many consumers also stated that the product took a long time to shake to make the proper slushy consistency, and that small children may get tired or bored with shaking for so long.
Conclusion
I feel that this product is worth a try because it would be a fun activity to make slushies at home with the kids. It may not hurt to offer a disclaimer before you begin, explaining to your child that these products advertised on television are not always as great as they claim to be. This way, if your efforts fail you can laugh about it, they won't be too disappointed, and even if it doesn't work out you've taught them a valuable "let the buyer beware" lesson at a young age. If it does work, you'll have a tasty homemade treat!
In the end it seems to be a decent product and a fun activity. It will cause your drinks to freeze and "slushyfy" even if it does take a little longer than you may think. Be sure to screw the lid on tight and maybe take turns enjoying the shaking fun.
Slushy Magic Review, slushies made simple or a waste of time?

,