Have you seen the GoJo Hands Free commercial?  I have to admit, right off the bat I was skeptical.  I mean, really?  Sticking a laptop to your ear?
Despite my initial resistance, however, curiosity has gotten the better of me.  If it does work, I think it would be pretty cool, albeit a little funny looking.  We looked into it to see if it lives up to the hype.
So what exactly is Go Jo Hands Free?
Well, GoJo is a way to make any cell phone totally hands free. Unlike head sets and wireless devices, it does not contain any electronics.
Instead, it uses a small suction cup, which attaches itself at the back of the phone. Once attached, you can place GoJo over your head with the cell phone directly against your ear. It will firmly hold the cell phone, allowing you to talk without  holding it. Once the call is over, you can easily remove the phone from the device.
GoJo is ergonomically designed and appears to be comfortable for most people, we did find complaints from people with really big heads. It is made using durable plastic and is adjustable.
Each pack comes with two GoJo devices in black with red accents.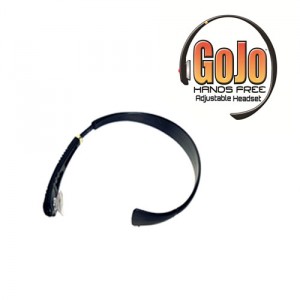 Unique Features of Go Jo hands free:

 It is compatible with all types of phones/ tablets
 Can be adjusted to fit
 No need for any battery or charger
 It has no hanging wires
 The device comes with a small suction cup for securing the cell phone in place
Things we like about the GoJo:
  It is easy to use
  It is totally hands-free
  It uses the phone's own speakers
Things we don't like:
Looks funny
Can be uncomfortable if you have a really big head
Why it could be beneficial
While there are numerous benefits of using GoJo, the biggest asset of the product is its simplicity and ease of use. As there are no electronic components in this product, there is no complicated installation or setup involved.
This device is compatible with all types of cell phones. Even the biggest desk or home phone can be securely held by GoJo , which works out well for those of us who have day jobs with real landlines.
Another advantage of this device is that there are no special maintenance needs. For starters, there is no need for any packs or batteries that are to be charged or replaced on regular basis.
As this accessory simply holds your phone in place, the only battery that you need to worry about is the one in your cell phone. In fact this device makes hands free cell phone a reality and without much of a hassle.
The GoJo Hands Free set also offers almost all benefits that you can find in other competing "hands free" products. After answering calls both your hands are free, and you can use them to take notes or do other tasks.
In many states, talking on the phone while driving is illegal unless you are using a hands free device. By using this device both your hands are free, which is great not only for your safety, but also for the sake of convenience.
Compatibility Test

GoJo claims that its device is fully compatible with all kinds of phones, irrespective of their size. This claim has been tested by many users in the past, and has been found to be true. It can secure even a big phone in place under normal use. Small phones, such as smart phones, stay in place even when the subject wearing the device rigorously shakes it to set the phone free.
Issues and Concerns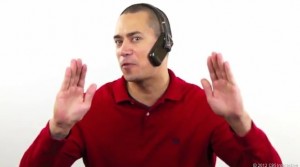 Some people have expressed annoyance with the fact that device comes in sets of two, even when you are interested in just one. However, this is not much of problem as the second set could be used in the office, or you can even gift this device to your family members or friends.
Another complaint is that prolonged use of the GoJo can give you a headache, although other users said if you are experiencing headaches then you have it adjusted too tight for your head.
Many people complain that GoJo comes only in black. Though most people won't mind using this color, people who want to match their accessories might be unhappy with the lack of options.
Deals
If you are interested in buying GoJo Hands Free it is currently available in the usual As Seen On TV style with a 2 for one offer if you buy from the manufacturers website. Since each package comes with 2 GoJo's you actually end up with 4 for $10.
Conclusion
If you are in the market for a hands-free device for your work, home or cell phone, then GoJo Hands Free could be what you're looking for especially if you are not a tech-y person and just want something simple.
If you do buy it and aren't happy with it, the good news is that it comes with a 30 day money back guarantee.