Just in time for the cold winter months, a cozy new solution to numb, frozen toes and aching feet has appeared!  Despite their unfortunate name (which leads one to an entirely different conclusion about what the product is), Hot Booties promise lasting warmth and comfort for frigid feet.
So what are they?  They're simply microwavable slippers. Pop them into you microwave for 60 seconds and when they come out, they will radiate "moist" heat for up to 60 minutes. But do they really last that long? And how much heat do they actually give off?
Overview
No one likes to suffer from ice cold toes while they're waiting for spring. These large, fuzzy, microwaveable slippers offer a solution.
Hot Booties come in pink women's sizes (available in small/medium and large) and blue men's sizes (available in medium and large). Each pair comes with a bag to place over the slippers before you nuke them in the microwave for lasting foot warmth.
How do they heat your feet? The sole of each of the foot warmer is filled with linseed. Linseed naturally retains and then slowly releases heat over time.
The concept is similar to a rice pack, which many people use to heat and relax their lower back or sore muscles.
The Claim
Hot booties claim to be "much, much more" than your average slipper. If you aren't afraid to put yours in the microwave, they will give you 60 minutes of "moist heat" after just 60 seconds of heat.
The booties are also supposed to provide a foot massage when you stand and move your feet. This massaging action will improve blood circulation while warming up your toes.
It's also suggested that they're especially helpful for those with tired and achy feet. The therapeutic heat claims to relieve tension, soothe sore muscles and rejuvenate feet at the end of the day.
The Truth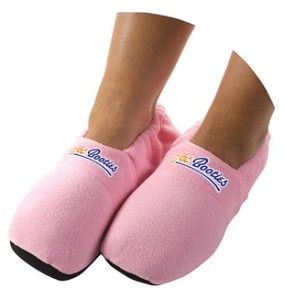 For the most part the claims are true, if a bit exaggerated. Heat for 60 seconds and they will heat your feet for up to 60 minutes. They are great foot warmers for an evening spent in bed, on a lounge chair or couch.
But while they do warm your feet, they are only suitable to do so while you're feet are up. That's why all of the actors in the infomercial are sitting down. Try to walk on them and they will not last long. That's because they are filled with small seeds that absorb heat. Don't make a habit of walking on them and they will be fine.
These foot warmers also live up to some of their therapeutic claims. People with chronically cold and achy feet find that these are one of the few foot coverings they've been able to find that provide lasting warmth.
Women, who tend to feel cold more easily than men, seem to find these slippers beneficial.  If you are a woman who is seated most of the day and struggles with losing feeling in your toes or feet, it may be worth trying a pair of Hot Booties.
However, we could not find any evidence of active massaging when you wiggle your feet inside the bootie. The slipper's sole is composed of linseed which is bumpy and does feel nice against the sole of your foot. But to call the feeling a therapeutic massage is a stretch at best.
The Cost
A pair of Hot Booties (the Bootie Bag is included) will run you $14.99 + $7.95 shipping and handling. But "call now" and you can get a second pair and another Bootie Bag for a second $7.95 shipping and handling fee. Shipments outside the continental US will incur an additional $5.00 shipping and handling charge.
This isn't a bad price for a pair of heated booties. But keep in mind that these really aren't the "world's first" microwavable bootie as the infomercial claims. There are several other brands of heat-able slippers that warm your feet. Some of those booties can be had for slightly but not significantly less.
The Commitment
As long as you don't attempt to walk much on your Hot Booties – they should last quite some time. There are reports, however that the linseed in the soles dries out over an extended period of time.  As with any seed or rice-filled pack, this is to be expected.  Since the price is not ridiculous, this issue doesn't seem to be much of a consideration.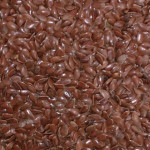 As the linseed dries out, there will be less of the humidity that some users buy the booties for. The moisture level does not seem to impact the linseed's heat retaining ability. Also some users have had success with placing a moist towel or washcloth in the microwave at the same time as the slippers.
There are reports that people who microwaved older Hot Booties for longer than the recommended 60 seconds managed to set the soles of their Hot Booties on fire. Follow the directions and you will be fine.
Hot Booties Review
The reviews on the slippers are mixed. But the varying reviews seem to depend heavily on the users' taste.
Several people were dissatisfied because they did not know that they were not supposed to walk on them. Those that used them simply to relax in a lounge chair were very pleased with the soothing warmth of the booties.
Some who bought them also did not like the "moist" heat that they give off. They are quite moist when they come out of the microwave the first few times the linseed is heated.
Others don't think that they get quite warm enough. However, we don't have an actual measurement of their heat in degrees so it's hard to tell what "hot enough" is to some people. There are plenty of customer reviews that suggest that Hot Booties are more than warm enough and that that warmth lasts for quite some time.
Men and women with very large feet should look elsewhere for warmth. Small/Medium corresponds to women's sizes 6-8. Large women's sizes correspond to 9-11. Men's medium sizes, however are 10-11. Men's large sizes range from 12-13 but stop there. There are also reports that the sizes run a little small.
Our Recommendation
If warm feet in a cold room sounds like the best possible ending to a long day, then Hot Booties may be right up your alley. Customers who suffer from chronically cold or aching feet seem to really enjoy the radiating warmth that they provide.
Remember not to walk much on them and you should be fine. And if you have second thoughts, Hot Booties come with a 60 day money-back guarantee if you buy them directly from the manufacturer.
However, if you want booties that you can putter around the house in, another pair of microwaveable booties might be for you. Hot Sox, Toasty Feet and Carex all have microwaveable slippers that are better for putting your weight on.