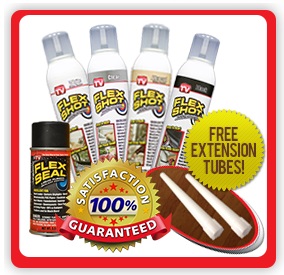 This is a new maintenance product from the same company that created Flex Seal. Flex Shot is a single product with a multitude of adhesive and bonding uses from fixing trim, grout and cracks to literally sealing up holes in buckets. I have not personally tried fixing a bucket, but check out the video for the product, it is rather impressive.
Visit the Official Flex Shot website here.
I can see this rubber sealant being perfect for home care in the kitchen and bathroom as well as in, boats and especially RVs. It is very thick, it has an easy to use nozzle and comes in four different colors, clear, white, black and almond. If you are a DIYer or prefer to fix things instead of throwing them out, you can probably think of several uses or projects that might be perfect for this multi-purpose and new to the market product.
Why:
People are always in search of multi-use products. There is a higher perceived value if a product can perform more functions. These types of products tend to leave your cabinets less cluttered as well. We also like things that are both fast and simple. In short people want quality products that are versatile and easy to use. Most people need something fixed at one point or another and Flex Shot offers to be a one stop sealing, bonding and adhesive agent.
The Assertion:
The company asserts that it can bond to virtually any material. They say it can even be used to fill holes, both small and large. They claim that it can be used in a variety of different locations and even damp places like kitchens and bathrooms. They also say it is equally as effective when used on outdoor projects; on the exterior of a house, RV or even a boat.
The Big Pitch:
It is a "revolutionary" rubber sealant that seals, caulks and bonds "virtually everything." It is "so easy to use" and gives a "perfect bead" every time you use it.
Because of its viscosity, you can even "stop the toughest leaks instantly!" This product can save you from having to deal with bulky and difficult to use caulking guns. It is "neat and clean" and can make your repairs with "pinpoint accuracy." It comes out of the can "nice and thick", it "clings to any surface", and becomes a "stretchy rubber seal that's virtually indestructible!"
It sets itself apart from other types of caulks and bonds because it will not dry out, shrink or crack. Flex Shot expands and makes every seal "completely waterproof." This is backed up with some pretty impressive video footage of the product in action. This is such a new product that unfortunately at this point it is impossible to know if it will hold up in the long run. It is impressive, but does it have endurance?
The Value:
This is a double offer where you get two cans of Flex Shot in white, clear, almond or black with two extension tubes for $19.99 plus $9.95 shipping and handling. If you want to pay separate $9.99 processing fee they will also include a bonus "Handy Can" of Flex Seal.
Flex Seal is this company's other flagship maintenance and repair product. This is definitely at the higher end of these types of products. Caulk is generally in the three to five dollar range. But if all of the claims and benefits of this product are real, I would say that it is a bargain. I never use all of my caulk or epoxy at once and it is messy and involves separate application gun or mixing two parts and eventually it dries out and I have to throw it away and buy more.
My Take:
We spend a lot of time in our RV and we love to boat too, this might just be the perfect product for us. Our storage is limited and it doesn't take up much space, there is almost always something in need of sealing, most recently it was the shower.
Visit the Official Flex Shot website here.
It will save us from having to use a caulk gun or having to mix two part solutions. It just seems like a practical solution to a lot of our common issues and challenges. Also, I feel like it has a lot of crafting potential. I would love to use it to create something new instead of just fix my broken stuff. Personally I am excited about using it for some type of mosaic or collage project.
Final Review:
Flex Shot may or may not do absolutely everything it brags about. Most products rarely do. I am being realistic about my hopes and expectations. It is full of potential though and I definitely can't wait to try it. I need to fix things and I want to make things and I want to give Flex Shot a try. It might just be the product I have been waiting for.
{ 0 comments }